10 Cheap or Free Things to Do in Sioux Falls
Enjoying a day out with your family doesn't have to be expensive. We've compiled a list of some of our favorite things to do, and most include activities for kids of all ages. And the best part? All of our suggestions can be enjoyed for under $20 for a family or even completely free.

SculptureWalk & Arc of Dreams
Set time aside while you are downtown for a self-guided walking tour of our SculptureWalk. This year-round public art display includes over 65 sculptures scattered throughout downtown for you to admire.

Be sure to also check out the capstone of SculptureWalk, the Arc of Dreams. This massive sculpture spans the length of a football field across the Big Sioux River and is beautifully illuminated at night.

Falls Park
No visit to Sioux Falls is complete without a stop at the city's namesake, Falls Park. See the water of the Big Sioux River rush over the beautiful pink Sioux quartzite, and take in a sweeping view of it all from the top of the five-story observation tower. There is no admission fee to enter the park.
Falls Park Farmers Market
Mark your calendars for every Saturday morning from May through October to shop a wide range of local vendors selling fresh produce, baked goods, and more at the Falls Park Farmers Market.
Levitt at the Falls
Did you know Sioux Falls has 50 free outdoor concerts? Catch a performance at Levitt at the Falls from a variety of traveling artists on Thursdays, Fridays, and Saturdays during the summer months. Bring your own lawn chair or rent one onsite. Several food trucks are at each concert, and adult beverage services are also available for purchase.
Free Museums
Step back in time at the Pettigrew Home & Museum to see what life was like in the late 1800s and early 1900s as you tour the home of South Dakota's first senator, R.F. Pettigrew.
The Old Courthouse Museum is filled with Sioux Falls history and other exhibits showcasing the city's past and the growth to what it is today. Not to mention, the building itself is quite the sight!
State Parks
For a small entrance fee per vehicle you can explore the vast wilderness at Good Earth State Park and Palisades State Park. Both parks offer hiking opportunities and incredible views across the landscape. Be sure to spend some time at the Good Earth State Park Visitor Center where you can learn all about the cultural significance of the land.
Big Sioux River Recreation Trail
Enjoy over 34 miles of paved trail for you to bike, run, walk, rollerblade or whatever your preferred fitness method is. The Big Sioux River Recreation Trail, known locally as the bike trail, loops around the city and passes through many parks along the way, making it a great way to see the city.

Outdoor Campus
Explore the adventurous side of you at the Outdoor Campus. You can try a variety of activities for free such as kayaking, fishing, archery, and more. You can even go snowshoeing during the winter months!
McKennan Park
Spend some time in Sioux Falls' oldest city park. McKennan Park is full of tall, lush trees and plenty of space to spread around in this very scenic area. There is also a bandshell for live music weekly during the summer.
Japanese Gardens
Walk the grounds of the beautiful Japanese Gardens at Terrace Park. Situated along a small lake you will experience serenity and relaxation while admiring the views all around you.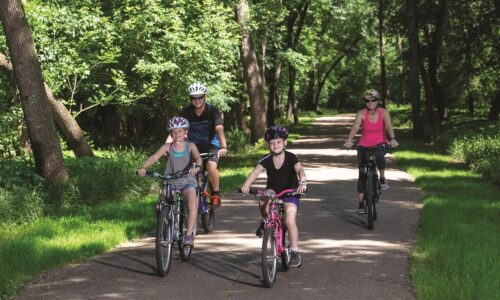 Free Attractions & Activities
View more FREE things to do during your time in Sioux Falls.
Read More