Sioux Falls' Guide to Active Experiences
Explore winter sports and recreation opportunities for solo adventures and group outings. Local venues like Great Bear Ski Valley are hubs for fun all season long. Download a digital copy or request a guide be mailed to you to see every way to play.
Sioux Falls' Guide to Musical Experiences
Throughout our visitor guide discover local insights on arts and entertainment. Attend shows featuring vibrant sounds at venues like the Husby Performing Arts Center all winter long. Download a digital copy or receive a guide via mail to check out Sioux Falls' music scene.
Your Guide To Visiting Sioux Falls
Whether it's for work or play, there's something for everyone in Sioux Falls. Natural beauty, a bustling downtown, and entertainment await! Get your copy of the Sioux Falls Visitor guide and keep up with everything happening in this growing city. From dining recommendations to upcoming events, planning your trip has never been easier.
Download a digital copy or request one by mail, the choice is yours!

Sioux Falls Digital Visitor Guide
See what makes Sioux Falls special so your next trip can become a tradition. Download our digital visitor guide for an inside look at all things local.
View Visitor Guide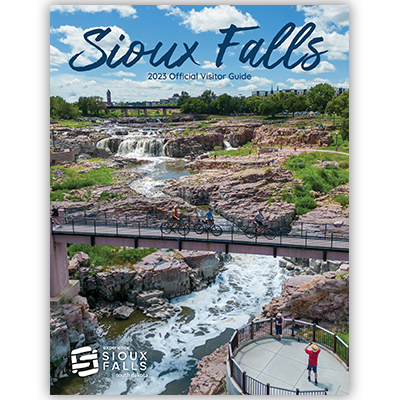 Receive A Mailed Copy of the Visitor Guide
If you'd like a paper copy of the visitor guide to have in hand as you hit the streets of Sioux Falls we'd be happy to mail one your way. Please include your full mailing address in the form below.

*Disclaimer: This is a year-long publication, so operations of the businesses included may have changed since this Visitor Guide was published.