Sioux Falls Free Attractions & Activities
Traveling on a tight budget? No problem. We have plenty of free attractions the whole family will enjoy. Learn a little bit about each one below and start planning your itinerary. Looking for additional attractions and activities? Take a look at our list of attractions.
Arc of Dreams
The Arc of Dreams is fairly new to Sioux Falls. It was installed in 2019 and has quickly become a favorite among both locals and visitors. You'll be impressed by the size and beauty of this stainless-steel arc that stretches over the Big Sioux River in downtown Sioux Falls.
Big Sioux River Recreation Trail
Walk, run, or bike on over 34-miles of paved paths that make up the Big Sioux River Recreation Trail. See a variety of city parks as the trail stretches and winds along the Big Sioux River while passing through some very scenic areas of Sioux Falls.
Cathedral of Saint Joseph
If you're a fan of historical architecture then this is for you. The Cathedral of Saint Joseph underwent a massive interior restoration to help bring out the intricate details of the paintings. Take a self-guided tour or set-up a guided tour to learn more about the Cathedral.
Center for Western Studies
The Center for Western Studies is a great place to learn about Native American heritage and western civilization. They always have a variety of exhibits on display that allow you to see some historical artifacts.
Falls Park
The namesake of our city, Falls Park, is the number one attraction in Sioux Falls. Explore over 128-acres at the park and watch the roaring water rush over the falls of the Big Sioux River. Make your way up to the top of the five-story observation tower for an incredible photo opportunity.
Hiking at Great Bear
Great Bear Recreation Park is most notably known for their winter activities such as skiing, snowboarding, tubing and more. However, there are also some impressive hiking trails throughout the area during the warmer months. You may be surprised by the serenity of the park, as well as the vantage points that can be found along the trails.
Japanese Gardens
For those who are looking for a casual stroll in a peaceful area, the Japanese Gardens is the place to be. Situated along Covell Lake in central Sioux Falls, the Japanese Gardens offer a tranquil environment lush with vegetation that is meticulously up kept.
Levitt at the Falls
During the summer months Levitt at the Falls brings 50 free outdoor concerts to downtown Sioux Falls, featuring a wide range of artists from around the country.

Mary Jo Wegner Arboretum
Walk the grounds of the Mary Jo Wegner Arboretum to discover some amazing spots that are perfect for some meditation. Located off of a highway on the eastern edge of Sioux Falls, the peacefulness of this place will make you feel like you are far away from the hustle and bustle of society.
Old Courthouse Museum
Calling all history buffs! The Old Courthouse Museum is your stop for learning all about the history of the city. As the name suggests, this place was once the city's courthouse, but has since become a museum to house an abundance of historical items and photos. They always have a few different rotational exhibits on display.
Outdoor Campus
The Outdoor Campus is a sanctuary for all nature enthusiasts. Explore the grounds on their walking trails or take a free class with an instructor on activities such as fishing, archery, shooting, kayaking and much more.
Pettigrew Home & Museum
To go along with the Old Courthouse Museum, pair it with a stop at the Pettigrew Home & Museum. Tour the home of South Dakota's first senator, Richard F. Pettigrew, and see what life was like in the late 1800s and early 1900s.
SculptureWalk
It's hard to miss SculptureWalk if you're in downtown Sioux Falls. This year-round exhibit features over 50 sculptures on display along the streets for public viewing. You will find everything from small and very detailed sculptures to large abstract sculptures.
Stockyards Ag Experience

Located within Falls Park, the Stockyards Ag Experience allows visitors to learn about the history of the Sioux Falls Stockyards as well as learn about the process of how your food goes from the farm to your table. There are also some fun exhibits specifically designed for kids to enjoy.
U.S.S. South Dakota Battleship Memorial
Many people don't realize that the U.S.S. South Dakota was one of the most decorated battleships in WWII. The U.S.S. South Dakota Battleship Memorial showcases the history of the ship, and there is also some visual programming that talks in depth about how the ship was operated.
Veterans' Memorial Park
Veterans' Memorial Park is a beautiful space for people to honor all our military members, both past and present. The park is full of quiet spots that allow for reflection and remembrance of those who have served.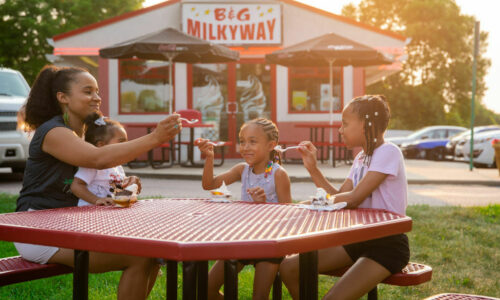 Find More Inspiration
Whether you have a lot of money to spend on travel or very little, Sioux Falls can be enjoyed by everyone.
Plan Your Trip