Road Trip to Sioux Falls - 5 Things to Do for Families
Article written by: Bryan Conley

Bryan, Teresa, and their eight month old son Hayden took a road trip from Des Moines, IA for a weekend getaway in Sioux Falls in the weeks leading up to the holiday season. We invite you to read about their adventures and find out what they enjoyed most about our city.
Favorite Family Attractions
The Butterfly House & Aquarium was such a great find on our first day in town. With the help of the wonderful staff Hayden was able to touch star fish, a sting ray and even a small shark. He was fascinated watching the jellyfish and even tried to blow some bubbles back through the glass at some other fish. The butterfly room was equally as wonderful, especially on a chilly day, because you get to walk right into a tropical jungle with beautiful colors swirling all around your head. We wound our way through a diverse assortment of plants and crossed over little bridges above little streams all while being surrounded by every butterfly you could possibly imagine, and even more that you can't. Although Hayden loved watching them fly around him, he seemed to like their mounted collection even more because they moved much less. From the look on his face he could have stayed for hours, however we had to move along to more of this city's treasures.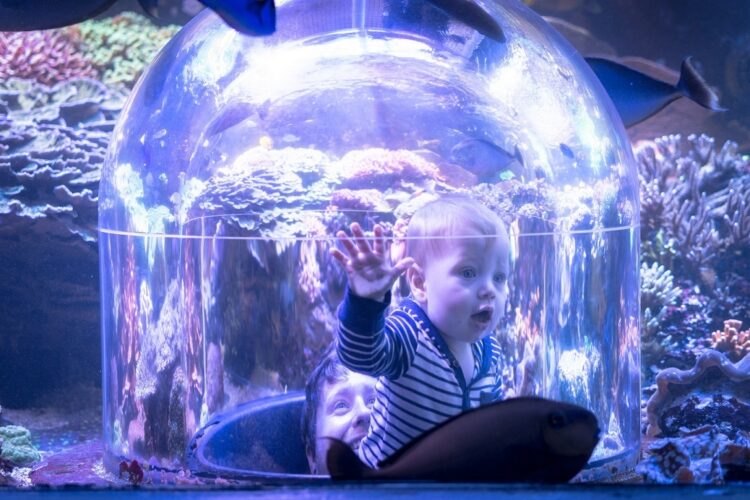 The Great Plains Zoo was another experience that Hayden just soaked up. It was another slightly chilly day and we had the zoo almost to ourselves, but that didn't stop the animals from showing up. Hayden loved watching the little squirrel monkeys play, and so did we. Those little guys have so much energy and move so fast that his head was flying around trying to track them. He enjoyed watching the reindeer clash their antlers while we told him about Rudolph. He got to see some of my favorite animals like the foxes, bears and wolves as well as what seemed to be his new favorite, the giraffe. Maybe it's the sheer size of them, but his face was lit up. We are pretty sure one of the giraffes liked it also, because he came all the way over to us for Hayden to get a better look. All and all we loved our time at the zoo and walked every bit of it.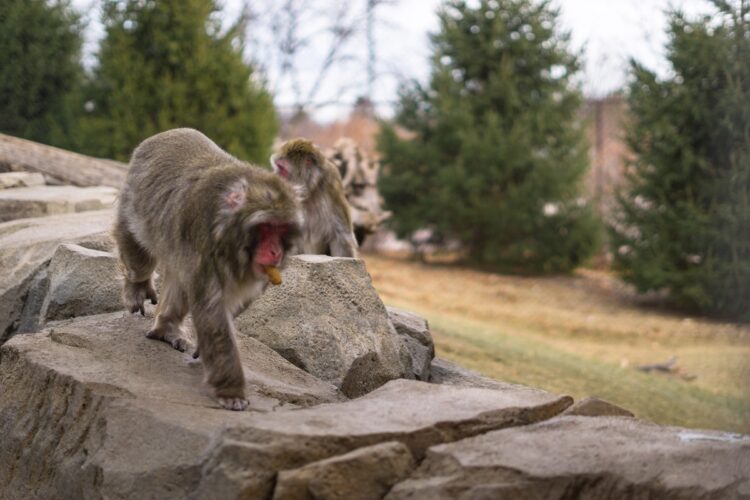 Unexpected Food Stops
We were so impressed with the restaurant options in Sioux Falls, and that even feels like an understatement. We tried a handful of spots for meals and desserts, but we had some clear favorites. The top meal for me was sushi at Oshima. It was beyond my expectations! The menu was huge and had so many great choices. When our dinner arrived it was like a piece of art was presented to us. The only thing better than how it looked was how it tasted, it was incredible! They really know how to do it right there, and I would suggest it to any sushi lover that finds themselves near Sioux Falls.
Our other favorite meal was at the Brazilian churrascaria style steakhouse, Carnaval. We have been to a similar place before and were excited to try another. If you are not familiar with churrascaria, it is when they have an assortment of meats cooking constantly on large skewers and they more or less parade them around the room and shave off cuts right on to your plate at the table. We must have tried at least ten different meats and it was all accompanied with a delicious salad and hors d'oeuvres bar. Highly recommended if you are into grilled meats, but you must have a large appetite!
CH Patisserie
Our favorite dessert place was one that came recommend by way of a few people on Instagram. They said that we absolutely "must" try the sweets at CH Patisserie. A few hours after I read the suggestion we were exploring downtown and found ourselves standing right outside the place, being drawn in by the smells. That was all the extra motivation we needed, we dove in. While I'm reading news clippings about the owner, Chris Hanmer, and his first place win in the 2004 world pastry championships, Teresa and Hayden are amassing a mountain of tasty treats. The one that I'll be craving the rest of my life now was what they call the Chocolate Dream. It's a little dome of chocolate mousse with softer chocolate inside and more chocolate coating on the outside. Hayden and Teresa liked it just as much, which just meant I had to share. I have a feeling I'll be back someday, CH Patisserie alone might just be worth the drive.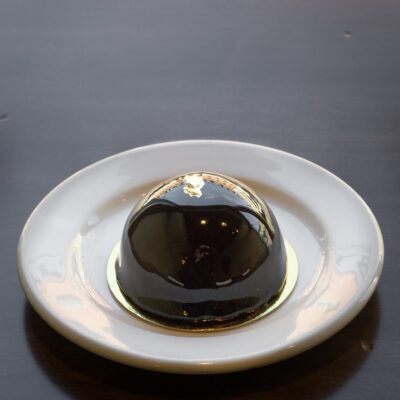 Nature Area Outings
We figured that in effort to get to know the area we should not only see the city, but we should get out to the surrounding areas as well and see what they have to offer. What we found was quite the surprise to us. The parks were not overly large places, but filled with some very interesting geology and history. We loved going down into the river canyon at Devils Gulch and also reading about its history with the outlaw Jesse James and him hiding out there in the 1870's. We spent some time hiking around Palisades State Park and Split Rock Park as well and really enjoyed the beauty and history there as well. Thanks to all of the roadside history signs we were able to have a much deeper appreciation of the area. Something that makes this area so special is that it seems to come out of nowhere. One minute you are driving through gorgeous farm land and then you reach the river and it all changes. For the Midwest especially, it's hard to find places to hike around that offer elevation gain, this has a bit of that for sure all while following along side the river. It's a truly unique area and anyone near should stop by to explore a bit, and see what you might be missing out on in your own backyard.
Gorgeous Downtown
What a gorgeous downtown! It has that wonderful old main street feel while still being completely modern. We made sure to stop by and read about all the sculptures along the SculptureWalk and stopped into just about every shop we passed to have a look. We saw neat little gift shops and high end boutiques as well as all sorts of restaurants and bars. This is where we found CH Patisserie and Oshima as well as the local toy store that we spent way too much time in. Maybe the best part of exploring downtown was getting to do our Christmas shopping at the same time. Everything anyone could need could be found there!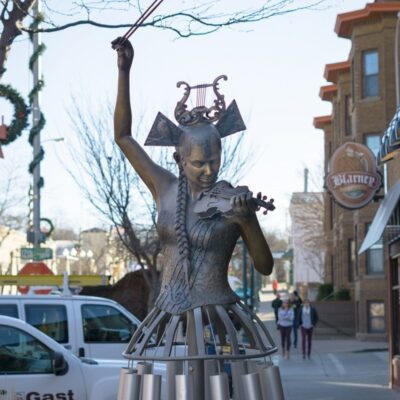 We also spent a bit of time walking around the Washington Pavilion. Such gorgeous architecture and a very cool use of the space. That building seemed to house a theater, art center, science center and maybe more. The area we spent most of our time in however was the kid's play room. With a stage and dress-up clothing, tables with art supplies and a little castle it's enough to please any child. Hayden's favorite area clearly was the mountain of bean bags. We spaced them all out with him in the middle and that smile could hardly fit on his face any more. I'm looking forward to going back to the Washington Pavilion someday to see the many things we didn't have time to check out on this trip.
Falls Park
I can't think of another destination that has a waterfall park right in the middle of the city, so already I was excited. Once I arrived at Falls Park and saw it for myself I was sold. I love waterfalls, so I quickly ran down to the base of it to snap a few shots and to feel its power. The view from above the falls with the city in the back is stunning as well. We happened to be there during the annual Winter Wonderland with the park lit up in all its glory. The falls were changing from red to green while all the trees were glowing and flickering with multi-colored lights. Even without the snow it really did feel like a Winter Wonderland!
In a way I could say our whole experience in Sioux Falls was unexpected, mainly because I like to approach things with an open mind and make my plans in the moment. Sometimes that approach fails big, but with a place like Sioux Falls it was perfect. Everyday was filled with fun and adventure, indoors and out. Nearly everything we did was a day of discovery for us and it makes me wonder what other fantastic places we missed. Something I personally found amazing and refreshing was the feeling of self -pride I noticed amongst the locals. Everyone was so eager to welcome us and tell us all about how much the city has grown and changed and it nearly always ended with them explaining to me how much they love their home. Now I'm an Iowa boy at heart, and it would be hard to move away, but if I were to move, then Sioux Falls would be high in the running.
In partnership with the South Dakota Department of Tourism.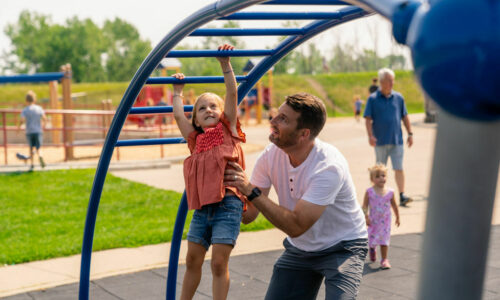 Don't Break the Bank
Who said travel has to be expensive? Sioux Falls has plenty of options that can be enjoyed for little or no cost.
Learn More