Exceptional Experiences
It's true. Sioux Falls has become one of the hottest group travel destinations in the region. And it's no wonder! Not only do we offer a range of unique events, local shopping, and lodging options, but also limitless attractions to keep your group engaged from start to finish.
3 Reasons to Bring Your Group to Sioux Falls
There are many reasons you should consider bringing your group to beautiful Sioux Falls, but here are three that stand out.
1. Tons of attractions
It doesn't matter how long you plan to stay—your group will never run out of things to do in Sioux Falls. Just look around our Things to Do page and you'll find something exciting to do any time of year: award-winning local restaurants, a vibrant arts and music scene, retail shopping options, dozens of parks and outdoor activities… The list goes on.
2. Incredible food
Did we mention food? Well, it deserves it's own point, because Sioux Falls knows how to eat. Our culinary scene is every bit as diverse as our people, so you'll find unique dishes from all around the world, including several farm-to-table, vegan, and local options. Add local beer, wine, and award-winning coffee, and you're in for a food and drink adventure unlike any other. Explore food options in Sioux Falls here.
Whether you're planning to stay a week or a month, you'll never run out of unique things to taste.
"I was very pleased with the service I received from Experience Sioux Falls. Sioux Falls would make an excellent mystery destination. They did an excellent job of mapping out and suggesting good group activities." - Brent Kalemkiarian, Allied Tours
3. Unmatched hospitality
Don't overlook lodging. Finding a place for your group to unwind and rest at night is a key component of a successful trip. The third reason you should bring your group to Sioux Falls is our impressive lodging selection and our hard-to-beat midwestern hospitality.
Whatever your group size, whatever your budget, and wherever you'd like to stay, we have an overnight solution for you. Sioux Falls has over 5,000 hotel rooms to choose from. Your guests will wake each morning refreshed and ready for the day. Explore group lodging options here.

Insider Information
Learn some more tips and suggestions when it comes to creating an experience in Sioux Falls for your group.
Planning Resources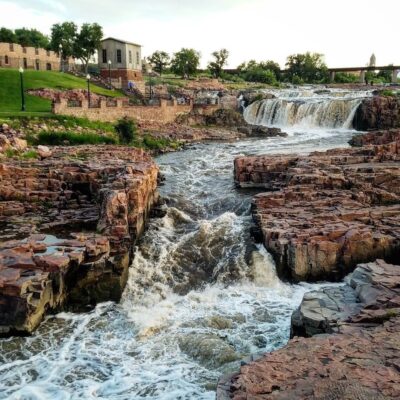 Start planning today
When it comes to great group trips, Sioux Falls is hard to beat. We want your experience to go as smoothly as possible, so we're here to help every step of the way. Contact our sales team to get started.