Affordable Family Fun in Sioux Falls
Who says weekend getaways are always expensive? Enjoy these fun fall activities with your entire family without making a dent in your bank account.
Fall Festivals
There are a variety of opportunities to enjoy several fall festivals this season. From an outing with the kids to the Country Apple Orchard's Fall Festival to a more relaxed setting at Wilde Prairie Winery's Harvest Festival, you're sure to find something to fit your style.

Outdoor Campus
As the name suggests, there are outdoor activities galore at the Outdoor Campus. Try archery, fishing, kayaking, or even learn how to make some campfire snacks. Best of all, it's completely free! That's right. The Outdoor Campus team has a passion for teaching skills when it comes to the great outdoors.
Falls Park
Explore Sioux Falls' namesake, Falls Park, during your visit. With 123-acres, this park has plenty of space to move around and view the Falls from various viewing areas, including from the top of the five-story observation tower— don't worry, it's free!
Pettigrew Home & Museum
Take a step back in time at the Pettigrew Home & Museum. This free museum offers a glimpse into what life looked like in the late 1800s and early 1900s. South Dakota's first senator, R.F. Pettigrew, once lived in this beautiful home which is now a museum showcasing many of his family's belongings, in addition to other exhibits depicting life in Sioux Falls during that time.
Good Earth State Park
For just a small entrance fee of $8 per car, you can experience the breathtaking beauty of Good Earth State Park. This vast land was once inhabited by Native Americans 700 years ago, and possibly longer. Walk the trails to enjoy the serene environment and listen to the sounds of nature— you may even see some wildlife!
Big Sioux River Recreation Trail
There's no better way to see the city parks of Sioux Falls than with the Big Sioux River Recreation Trail. This paved trail follows the course of the Big Sioux River, passing through many parks along the way. Walk, run, bike, you can do it all on this trail.
Free First Friday at the Washington Pavilion
The Washington Pavilion is a hub for all things arts and science. Walk through several different art galleries and experiment with hands-on exhibits in the Kirby Science Discovery Center. There is an admission fee at this local favorite attraction, but you can take advantage of Free First Friday by getting free access on the first Friday of every month from 5pm-8pm.
SculptureWalk
Check out the wonderful works of art as you walk the streets of downtown Sioux Falls. SculptureWalk is made up of over 65 sculptures made from artists around the world. This year-round public exhibit features a rotation of new sculptures every year, and they just keep getting better and better!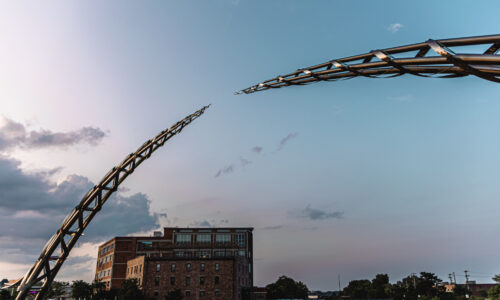 More Family Fun Awaits
Don't stop here! There's so much more to discover in Sioux Falls.
Things to Do