Where to Get the Best Food in Sioux Falls
Written by Traveling Newlyweds
Breakfast/Coffee
Josiah's Coffee House: This hip and trendy new coffee shop reminds us of something we'd find in Los Angeles, but with some "South Dakota" charm. We love the freshly baked, homemade pastries and sweets, the extensive breakfast and lunch menus, and the friendly service. It's the perfect place to meet your friends for brunch, or bring your laptop and get some work done, as there's ample seating!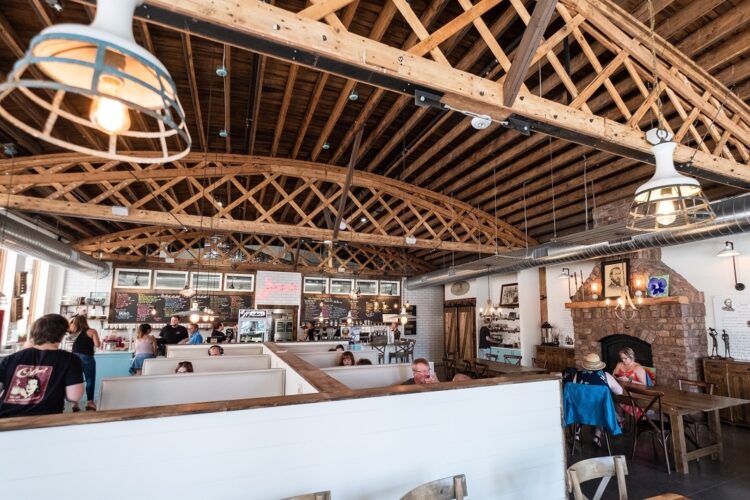 Coffea Roasterie: While we wouldn't go as far as saying that we're "coffee snobs", we know a good cup of joe when we see it. This quaint little downtown coffee shop knows what they're doing - so much so that we went every day while we were in Sioux Falls. (Sometimes even twice!) Grab a seat at the bar, get to know the knowledgeable and passionate baristas, and get ready for a really strong, smooth, and flavorful coffee experience.
Ode to Food and Drinks: If you happen to visit Sioux Falls over a weekend, make sure this is your Saturday brunch spot. While the breakfasts are hearty, tasty, and locally sourced, the real MVP here is their famous Bloody Mary Bar. It has all of the fixin's, from bacon and olives, to pretzels and shrimp!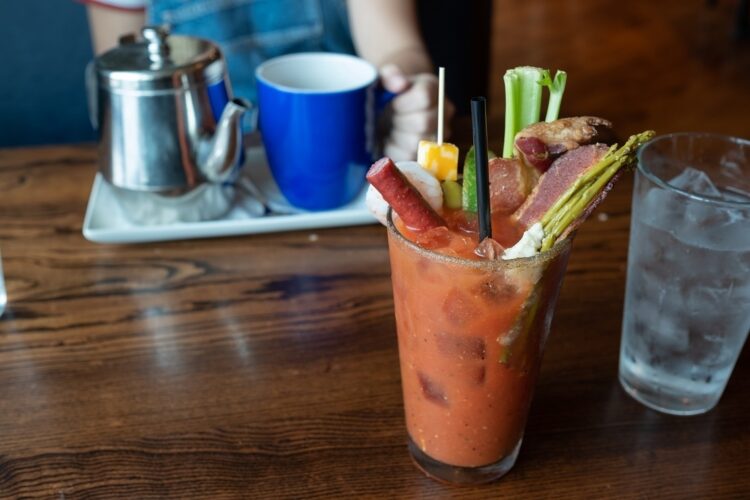 Queen City Bakery: Maybe it's the cozy brick lined interior, maybe it's the fresh-out-of-the-oven baked goods, or maybe it's the hot coffee that pairs so perfectly with their melt in your mouth coffee cake… whatever it is, this bakery is truly something special. We happened to enjoy it on a rainy morning, and it was just the kind of snug and inviting place we were hoping to find!
The Source: An independent small-batch specialty coffee roaster, taproom, and wine bar all in one… Can we get an amen?! The Source is one of the newer coffee shops on the scene, and we have a feeling it's only going to get more popular. Not only do they roast some quality coffee, but they also have an epic tap wall that features 16 unique styles of crafted beer from artisan breweries. And if you want wine, they have that too! Yep… this place is pretty darn legit.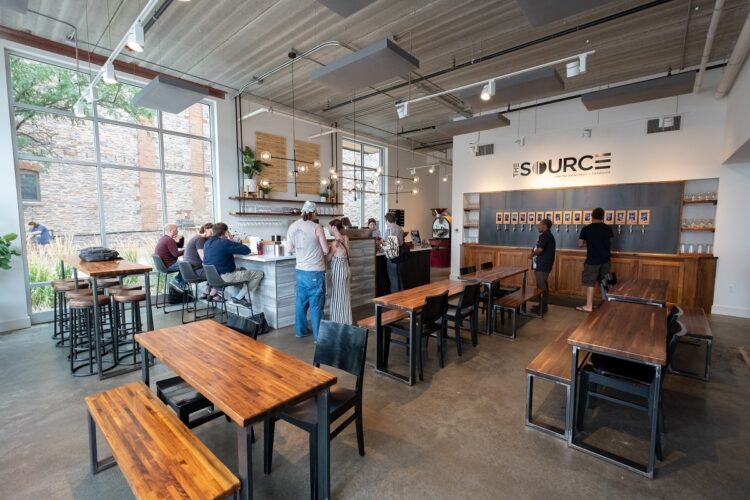 Lunch/Dinner
Bread & Circus Sandwich Kitchen: With a name like "Bread & Circus", we weren't sure what to expect. Toast on unicycles? Bagels doing tricks? Well, we have no clue what tricks the folks at this sandwich kitchen have up their sleeves, but whatever they're doing, they're killing it. From their Curried Cauliflower flatbread, to their Vietnamese Fried Chicken sandwich, everything they make is creative, high quality, and delicious.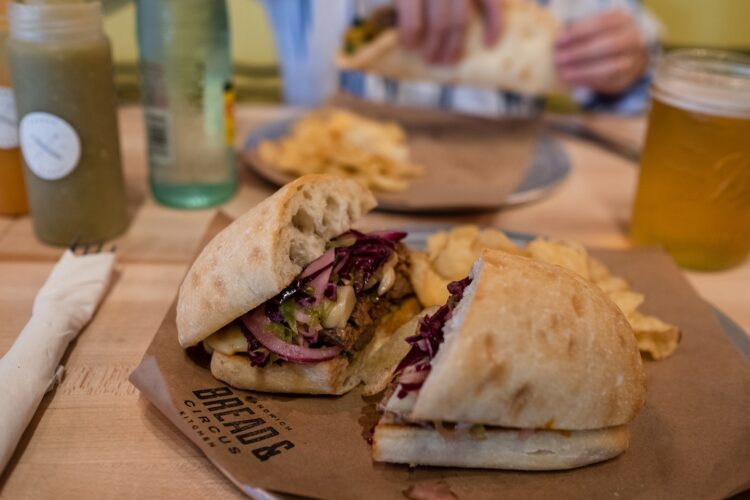 Sanaa's: We love a good hole-in-the-wall Mediterranean restaurant, and Sanaa's is exactly that. This no frills, order at the counter lunch spot is a favorite among Sioux Falls locals, and with one bite of baklava you'll know why! For something really fun and different, try their Saturday lunch buffet! You might even meet Sanaa herself!
M.B. Haskett Delicatessen: This warm and friendly delicatessen takes their menu to the next level, with rotating daily specials and salads that have developed a cult following around town. Every day the menu changes, and every day the crowds come in droves! Some regular menu items worth trying are their housemade Muffuletta and the Cheddar and Bacon Crepe!
Mama's Ladas: Homemade enchiladas and sangria… what a concept! This adorable enchilada shop is a must-try when in Sioux Falls, for multiple reasons. Their enchiladas are fantastic, their sangria is perfectly sweet and refreshing, and the ambiance is adorable! Not to mention, the entire menu is incredibly affordable. We know you'll love it just as much as we do!
Parker's Bistro: If you're looking for an upscale date night spot, this is it. Parker's Bistro is a chef driven restaurant that utilizes local ingredients to create unique and memorable cuisine from around the world. On Friday and Saturday nights they offer a "white table cloth fine dining experience", and it's unbelievably romantic!
Dessert
Parlour Ice Cream House: Chic, chef driven, and artisanal, this ice cream shop is as Instagrammable as it is mouth-watering. Their chef Chris Hanmer (who won Top Chef on Season 2 of Bravo's Top Chef: Just Desserts) takes ice cream to another level with flavors such as "Play Ball" (popcorn gelato with caramel and chocolate peanuts) and White peach Ginger Sorbet. Is your mouth watering yet?
CH Patisserie: Desserts are our love language, and it's safe to say C.H. Patisserie has our hearts! This downtown patisserie specializes in everything from gourmet French macarons to homemade candies pastries, french press coffee, and more. It's the kind of place where it's impossible to order just one thing, and their macaron flavors are to die for! We're still dreaming about their puppy chow macarons!
Bars
Carpenter Bar: One step inside the Carpenter Bar and you'll feel as though you've stepped inside a stylish NYC bar, with well-qualified mixologists and picture-perfect handcrafted cocktails! Their extensive cocktail menu proves that they can make just about anything, too!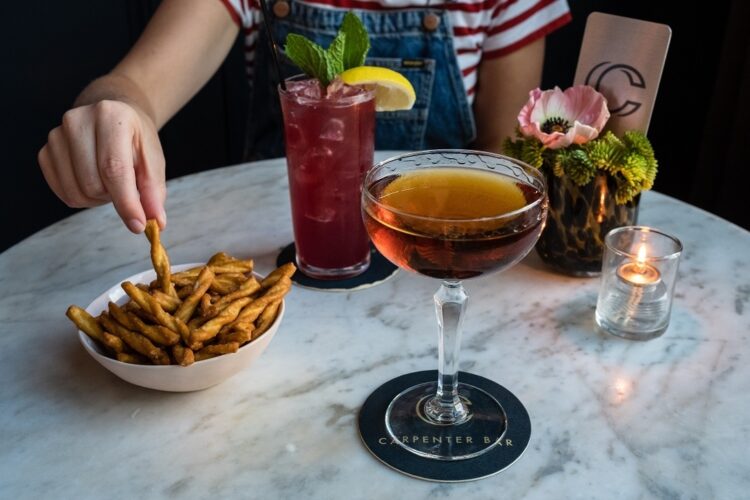 PAve: There's no better spot to be on a warm summer evening then PAve's glistening and energetic rooftop bar! This multi-level bar and restaurant has some of the best daily drink specials in town, and ½ price drinks from 1pm-7pm, Monday-Friday! We'll cheers to that!

Breweries
Fernson Downtown: With two locations (the Brewery Taproom & the Downtown Taproom), this Sioux Falls craft brewery is a favorite among locals and visitors alike! We're big fans of their downtown location, which serves high quality shareable grub as well as their 12 Fernson beers on tap… and the cool, refined ambiance is on-point!
Remedy Brewing Company: This casual and welcoming brewery has it all - 23 rotating brews on tap, a full food, wine, and dessert menu, board games, plenty of space to sit, and live music and trivia nights happening weekly! Their beer is innovative and enjoyable (try the Cow Tippah Chocolate Milk Stout!), and the way they connect and inspire the Sioux Falls community is inspiring. We'd be here all the time if we were locals!
Learn about more breweries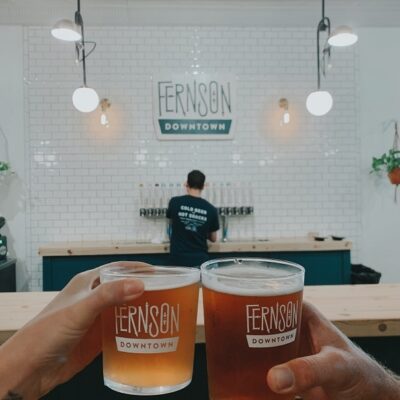 Now, this is just the tip of the iceberg when it comes to the culinary scene in Sioux Falls. There are SO many spots we have yet to check out and add to our list. You better believe we plan on coming back soon!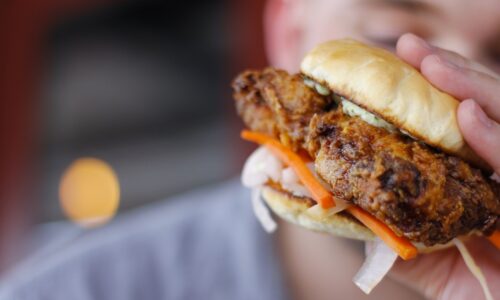 Did You Know Sioux Falls was featured on DDD?
Food Network's Diner's, Drive-Ins and Dives featured several Sioux Falls restaurants spread over a few different episodes.
Learn More