Sioux Falls: Your Next Brewery Destination
Over the last few years, Sioux Falls has enjoyed innovative breweries pouring some incredible brews! The next time you're craving a rich stout or a refreshing pale ale, take note and make plans to visit the craft beer scene in Sioux Falls.

Located on the outskirts of Sioux Falls in a rural setting is A Homestead Brew. They not only produce some great beers, but they also grow their own hops! This family-run brewery started their hop farm in 2012 on the same land that their grandfather built his homestead over 100 years ago. You can't get much closer to the source than being able to drink your beer with a view of where the hops were grown.
A Homestead Brew features a wide variety of beers such as their Farmhouse Sour, Elderberry Sour, Amber Waves, Coffee Pecan Porter, and more. If you're a fan of sours and barrel-aged beers, then this is your place!
Must-try: OG Sunshine Peach Sour Ale
Situated in Hartford, a suburb of Sioux Falls, is Buffalo Ridge, a brewery that has been growing in popularity since its opening in 2018. The brewery features a lot of natural light in the taproom, with ample seating for parties of all sizes. The laid-back, welcoming atmosphere provides the perfect setting to enjoy a cold brew on the weekend.
Those picky beer drinkers will love Buffalo Ridge because there truly is something for everyone, ranging from dark porters to cream ales and more.
Must-try: Lady Renegade Belgian Blonde. This 6.7% beer is supple, crisp, bold, and has fruity notes with a slight peppery background for a lighter option popping with flavor.
This brewery is the definition of fruity sours. They don't produce large quantities of their beer, so be sure to drink it while you can because when it's gone, it's gone. The team at Covert Artisan Ales is always looking to brew something new to please a wide range of folks. Enjoy a pint inside their spacious downtown taproom, Covert Cellars, or relax on their patio with great views of the surrounding area.
Fruit is the name of the game here. Their beers almost always involve large amounts of fresh fruit to bring out incredible flavors. Beers that have been brewed include Boysenberry Ambrosia, Operation Dreamsicle, Strawberry Erzen, and more.
Must-try: Whatever their latest release is! Covert Artisan Ales is always coming out with something unique, so be on the look-out for their newest products.
If you're not sure what to choose, start with their flagship draft beer Lion's Paw Lager—a German-style malty lager with a beautiful copper color and crisp finish. If you're looking to share your new-found love of Fernson with those back home or wish to relive the experience later, you can grab a pack of beer to go.
A few other must-try beers are Farmhouse Ale—a bright, fresh, and semi-tart beer with only 4.5% ABV, Shy Giant IPA—a well-balanced, Mosaic dry-hopped IPA with a nice malty backbone that's 7.0% ABV, and Curio—a tart, yet refreshing sour beer that's 4.0% ABV.

They also have a downtown taproom, Fernson Downtown!
Staff favorites: "Our favorites change all the time, but we're always excited about our newest seasonal beer or specialty barrel-aged beers," says BlakeThompson, Fernson's co-founder.
Look's Beer Co. hasn't been around long, but it has stood out since day one. The brewers at Look's have hit the nail on the head with their initial core beers while they continue to expand their product line. A few of their staples include their cream ale, Weider Hands, and their milk stout, Cow in the Headlights. Look's also has a strong line-up of guest beers on tap. For those who are looking for something a little different, they can also order a hand-crafted cocktail or a glass of wine.
When, not if, you get hungry you don't need to worry. Look's has a wide variety of food to grab in their open-concept venue. Enjoy items such as sandwiches, pizza, sausage, cheese, ice cream and much more!
Must-try: You Chinook Me All Night Long, a Smash IPA with an IBU of 4.1%. This brew will have your taste buds screaming for more!
While this isn't a local brewery, Lupulin has been embraced by the Sioux Falls community. This craft brewery is based in Big Lake, MN but they opened an additional taproom in Sioux Falls in 2019. Located on the west side of the city, the Lupulin taproom has an inviting atmosphere with hints of their signature yellow color which represents the lupulin, the yellow powder that is the active ingredient of a hop plant.
If you are an IPA fan, then this is your place! Lupulin pours a variety of IPAs and double IPAs that pack a punch. Be sure to also keep an eye out for their Scribbled Lines series, which is a program dedicated to brewing sour ales.
Must-try: Apricot Blonde! This is a seasonal beer, so don't expect to find this on tap during the winter months. However, when you do get your hands on it, you will want to savor this one.
Located in east Sioux Falls, Obscure Brewing, has a classic neighborhood feel to it. You'll notice a sense of community when you walk through the door, where it seems as if the friendly staff and customers are all long-time friends. The team at Obscure will make you feel welcome.
The brewers at Obscure are constantly tweaking their recipes and working on new experiments. A few staple beers are the Backcross Blueberry Belgian and the Lunarian Pale Ale. Both offer a refreshing taste with an easy finish for any season.
See how your beer is made! Grab a pint and look down at the spacious brewing room from the elevated taproom windows. The taproom is decorated with beautifully hand-crafted wooden tables and signs that match the vibe and energy of the building. Grab a seat outside on their patio to catch those gorgeous South Dakota sunsets!
Must-try: Tart Session Ale is a crisp brew that packs a punch while leaving you craving more after every sip.
At Remedy you will find a variety of must-try beers including their Espina Mexican Lager—a 4.2% ABV beer that's perfect for those warm summer days, their Queen Bee Imperial Honey Cream Ale—a 6.9% ABV sweet ale with a crisp finish, their Cow Tippah Chocolate Milk Stout—a 6.5% ABV glass of deliciousness that will bring you right back to your favorite childhood memories of drinking chocolate milk around the house.

From the moment you step into Remedy you will feel right at home with the cozy décor and atmosphere, not to mention some prime seating options outside on their patio. The guys at Remedy of course have their staple beers, but they also have a plethora of other rotating brews that they can't wait for you to try!
Flagship beer: Queen Bee Imperial Honey Cream Ale is the most popular choice at Remedy Brewing Company. Utilizing generous proportions of locally sourced honey, this beer surprises you by drinking clean and sweet while finishing at a crisp 7.5% ABV.
If you find yourself downtown, a stop at Severance Brewing Company is a must! Their prime location offers sweeping views of Falls Park West and the sounds of Levitt at the Falls. This brewery sits on the first floor of a brand new apartment complex, along with several other business tenants.
Grab a pint and relax at a table with one of their board games, or compete against your friends on the shuffleboard table. Looking to disconnect and enjoy great conversation? Place your phones in the provided bins on the table and focus on what's really important - the people.
Feeling generous? Pay it forward by purchasing a beer for someone of your choosing (ex. nurse, teacher, police officer, etc.). Write your recipient on a sticker and place it on the wall. If you're a match for one of the stickers on the wall, then hand it to the staff to redeem a free beer.
Must-try: Monster Cookie, a sweet oatmeal stout, and also Pinky and the Grain, an American wheat with hibiscus.
WoodGrain has many signature brews, but a few you need to try is SMaSH—a simple single malt and single hop mix with a citrusy hop aroma and smooth pale ale finish, and their American Wheat which is the perfect accompaniment to hot weather, with equal parts pale ale malt and white wheat. On a cold day, lift your spirits with their Milk Stout—a lighter version of a stout that's like sipping on a creamy, dark, chocolatey bit of heaven. The WoodGrain brewers love to experiment and serve new brews, so repeat visitors are likely to get a new experience every time.
Beyond the beer, the taproom is a simple, open space with reclaimed barn wood tables and warm lighting. The brewing area is right there, too, so you can see all of the state-of-the-art equipment for yourself. You can also sip on other local brews from their rotating guest taps.
Most unique beer: "For something out of the ordinary, our seasonal fall/winter Imperial Brown ale has a delicious balance of malt sweetness, clean finish, and lightly roasted aroma," says Jason Currie-Olson, owner and brewer at WoodGrain. "Imperial brown ales are not very common, and ours is a special treat for those looking for a 'bigger' beer without all the coffee aroma and notes."
Get your taste of the craft beer movement.
This is only a small sampling of Sioux Falls' amazing craft brews. The are several breweries downtown all within walking distance of each other, so start planning your route now. There are also many restaurants around town where you can enjoy a craft pint with a delectable dish.
For your planning purposes, unless noted, you must be 21 years of age or older to enter these fine establishments. Sioux Falls has plenty of hotels with free shuttles, as well as Uber and Lyft if you need a ride to get around.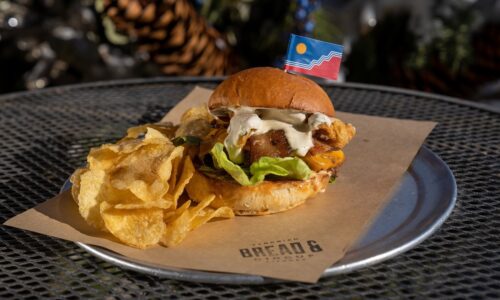 Grab a Bite to Eat
If you're digging our craft beer scene, then you're going to LOVE our restaurants! Many people have claimed Sioux Falls as an under-the-radar foodie destination. Come see why.
See Restaurants