Diners, Drive-Ins and Dives - Sioux Falls Edition
If you have ever watched the Food Network's "Diners, Drive-Ins and Dives" then there's a good chance that you have found several restaurants that you would like to dine at in the future. The host, Guy Fieri, travels around the country visiting a wide variety of restaurants showcasing amazing dishes by very talented chefs. Guy and his crew made a stop in Sioux Falls in 2020 to see what they could find.
Sioux Falls restaurants featured on "Diners, Drive-Ins and Dives" over a few episodes include Urban Chislic, Lalibela Restaurant, Bread & Circus Sandwich Kitchen, Look's Marketplace, and Daily Clean Food & Drink.
Sioux Falls Episodes Guide
"South Dakota Smorgasbord" featuring Urban Chislic and Lalibela Restaurant.
See how much Fieri loved the "hand-held flavor bombs" of Bread & Circus Sandwich Kitchen on "Spicin' Things Up"
The taste sensations from Look's Marketplace was a delicious part of "Savory Meat and a Little Sweet"
Discover the delicious recipes at Daily Clean Food & Drink in "Rib Stickers"
Urban Chislic is all about – you guessed it – chislic! This South Dakota signature dish has become a favorite among locals and visitors alike. At Urban Chislic you get to pick your meat (lamb, beef, pork, or chicken) and then choose from a large list of sauces and rubs such as Asian Bourbon, Chipotle BBQ, Bone Dust, and more. Eat it straight up or have it served on nachos, in a stir fry, or on a salad.
Lalibela has been a longtime gem in the Sioux Falls foodie community as being the oldest Ethiopian restaurant in the city. Ethiopian food is traditionally served on injera bread, allowing diners to use their hands to scoop the food. Order dishes such as Sambusa, Miser Key Wot, or Golden tibs. Whether it's your first time eating Ethiopian food or not, the owners are certain that they'll leave you impressed.
Bread & Circus has only been around for a few years, but they have certainly planted themselves as a key place in the Sioux Falls foodie scene. Both locals and visitors alike flock to Bread & Circus for their diverse sandwich menu using the finest ingredients. Be on the lookout for their rotating featured seasonal dishes.
The crew at Look's Marketplace has created a foodie's paradise. Check it out for yourself and you will see several different kitchens serving up delicious eats such as tacos, pizza, sausage, baked goods, ice cream, and an extensive dinner menu. Be sure to grab a pint of their beer that is brewed in-house by Look's Beer Co. While you're waiting for your food you can also walk through their marketplace and shop meats, take-and-bake meals, seasonings, freshly baked bread, and more.
Who said healthy eating has to be boring?! The chefs at Daily Clean Food & Drink are consistently cooking up some delicious meals that are health-conscious without sacrificing the flavors that you crave. Enjoy brunch favorites such as Sweater Weather Waffles, or try a classic like their Mighty Mac or one of their signature pizzas. You just simply can't go wrong here.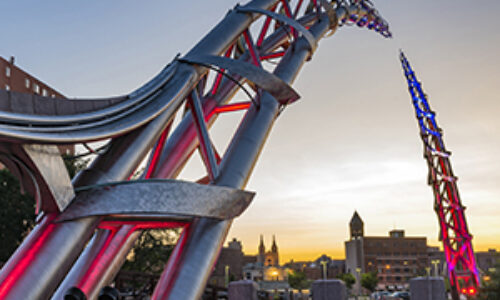 Find More Trip Inspiration
Check out some of our other articles to gather more ideas for your next stay in Sioux Falls.
Read More