Weekend Guide to Sioux Falls for Families
Article courtesy of Our Next Adventure; written by: Laura Ishmael
This article has been modified from its original version.
In an effort to see what's happening in the cities nearest us, we've decided to stick around home this summer, filling our travel schedule with quick weekend family road trips. There are so many cool cities in the Midwest, but we realized we'd not taken advantage of seeing all that there is to offer in our own backyard!
So, first up on the list? Sioux Falls, South Dakota!
This wasn't our first time in Sioux Falls; not by a long shot. My husband Matt and I both grew up in South Dakota and have made many trips to the state's largest city. But we'd never really seen Sioux Falls – at least not from a tourist's perspective. And with all that's happening in the downtown Sioux Falls area, I was intrigued to find out more.
Turns out, Sioux Falls is the perfect destination for a quick and easy weekend family getaway. Let me tell you why…
Getting There
Sioux Falls sits right at the intersection of I-90 and I-29, making it easy to reach from several nearby cities. Omaha, Fargo, Des Moines, or Minneapolis are all under a 4 hour drive, making Sioux Falls an ideal getaway for families that want to see a unique city without having to travel too far.
For those coming from farther away, Sioux Falls' Regional Airport makes getting in and out of this small city a breeze.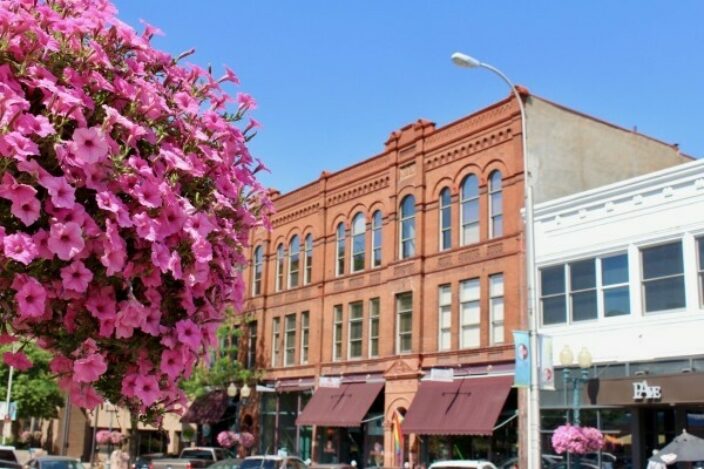 Where to Stay in Sioux Falls
The heart of Sioux Falls is divided by the Big Sioux River into two main areas: Downtown and the East Bank. Both areas have seen a huge revival in recent years, and Downtown Sioux Falls has become a hotspot for creativity. Independent shop owners, local chefs, and multiple craft breweries are all leaving their mark on the area and helping draw in even more exciting new businesses.
We decided to stay at the Holiday Inn City Centre, on the downtown side, and I was quite surprised by how nice it was! You all know we love a good Airbnb, but sometimes it's nice to have the consistency and service of a hotel, especially where rental options are slim.
We loved the location of our hotel (literally right in the middle of everything downtown has to offer). Plus the staff is super helpful, there's an on-site restaurant (should dinner plans go awry), and the rooms are recently updated and surprisingly modern!
If you plan to spend a little more time on the East Bank, two other nearby hotel options worth checking out for their great location are the Country Inn & Suites and the Hilton Garden Inn Downtown.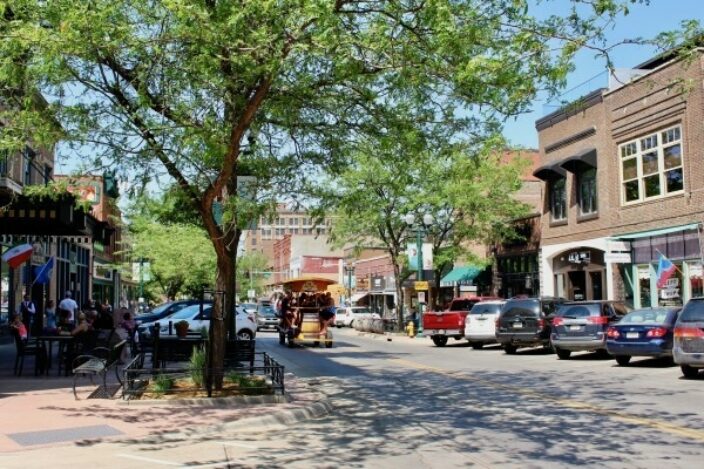 Getting Around
While Sioux Falls is largely a driving city, we found the downtown area to be extremely walkable. Within several blocks you'll find plenty of restaurants, hotels, shops, and even a grocery store, so you can quite literally park the car for the entire weekend if you'd like!
So what exactly is there to do in Sioux Falls? Turns out, A LOT! Here's how we recommend you spend your next family weekend in Sioux Falls:
Day 1 - Breakfast at Queen City Bakery
We started day 1 at Queen City Bakery. The East Bank favorite serves up an array of pastries, along with cookies and cakes and (a must for our morning visit) delicious coffees. The space is large and open, with a mix of rustic wood beams and glam crystal chandelier. While I enjoyed a guava cream cheese turnover, our daughter Evelyn sunk her teeth into an iced cinnamon roll. But the real treat was getting to watch the bakers at work through the large window into the kitchen!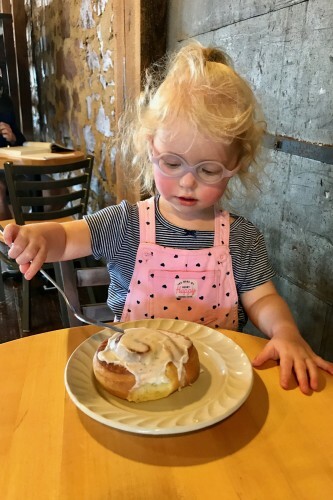 Kirby Science Discovery Center at the Washington Pavilion
Next, we scooted over to the Washington Pavilion. The former Washington High School is home to a performing arts theater, Kirby Science Discovery Center, Visual Arts Center and CineDome (think: mini iMax theater). We chose to spend our time exclusively at the Kirby Science Discovery Center, which among 3 floors showcases various exhibits in space, physics, engineering, and light. You might think it'd have been a little over a 2 year old's head, but the exhibits were surprisingly adaptable to all age groups! Heck, even us adults had a little fun as well!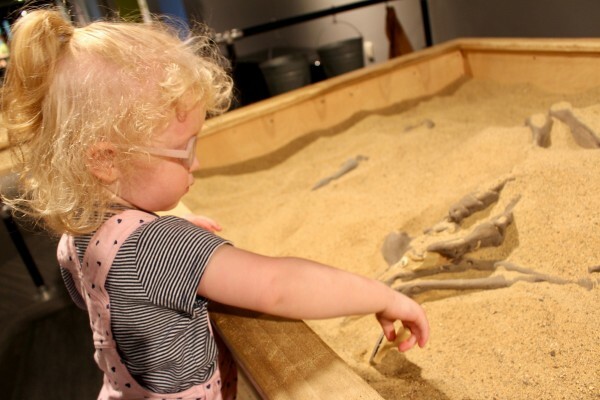 Lunch at Sanaa's Gourmet Mediterranean
After a busy couple hours at the Washington Pavilion, we made our way back to East Bank for lunch. Sanaa's Gourmet Mediterranean came highly recommended, and I'd be lying if I said I wasn't intrigued by the idea of authentic Middle Eastern food in the heart of Sioux Falls (a city one might not consider so diverse).
We were lucky to find that Sanaa's was hosting a Saturday buffet, so we dove right in at the chance to try a little of everything the kitchen was cranking out. Chicken tikka, beef kufta, eggplant moussaka, tabbouleh salad and more…safe to say we weren't leaving until we sampled it ALL.
We tried to pay for our meals, but the lady working the counter insisted that we eat now while our food was hot. "You can worry about paying later, enjoy your meal and come back for as much as you can eat!"
I think I like this town already.
Shop & Walk Downtown
After a quick break for naptime, we carried on to check out the rest of the downtown scene. Strolling along Phillips Avenue, the main thoroughfare through downtown Sioux Falls, we passed by bakeries, coffee shops, and boutique clothing stores.
Another fun bonus of the day: taking in the SculptureWalk along Phillips Avenue. Each block features several unique pieces on display, so keep an eye out and see if you can spot them all.
The shops were spacious, something that struck me as we had no trouble wheeling a stroller in and out of each store. It was refreshing to not feel overwhelmed or crowded by tons of other tourists. We may have been the only ones.
In fact, we didn't feel overwhelmed anywhere in Sioux Falls. The shops, the restaurants, and even at the hotel: everything seemed to move at an easygoing pace. No one was in a hurry, and there was just the sense of calm we'd been looking for in a vacation.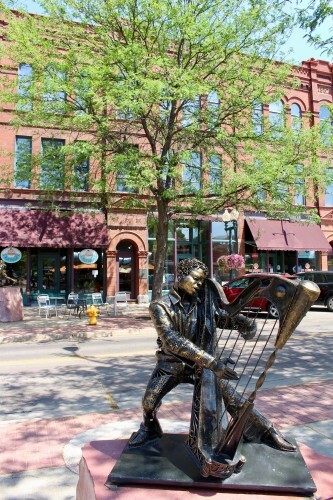 Day 2 - Brunch at M.B. Haskett
Refreshed for day 2, we started the morning with brunch at M.B. Haskett. I'd heard good things about this place (one local friend even went so far as to say it's a MUST), so we, of course, had to fit it into our itinerary.
There aren't a lot of places open in downtown Sioux Falls on a Sunday morning, but lucky for us, we arrived just before the after-church crowd filled in. We sat and enjoyed our breakfast, the daily hash for Matt and a ham and gruyere crepe for me, and then sat some more as we finished our coffees. The servers had no intentions of rushing us out the door!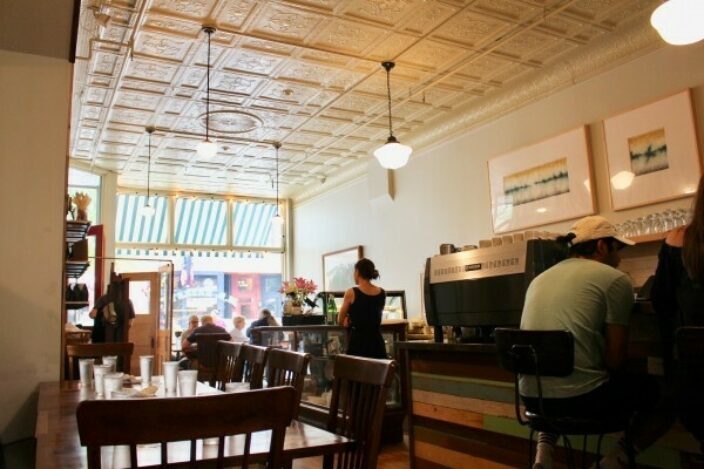 Butterfly House & Aquarium
Then it was off across town for the first time in our trip. While we'd planned to stick close to the downtown area, the Butterfly House & Aquarium had been on my list of places to take Evelyn for awhile. So we made the short (literally, 15 minute) drive across town to see not only the 800+ colorful butterflies fluttering in the butterfly house, but also the brightly colored fish, corals, and jellyfish in the small attached aquarium.
Afterwards, we made a pit stop at the neighboring Sertoma Park. The epic playground has 3 different jungle gyms for various aged kids, with a huge shelter in the center. Had I known, next time I'd pack a small picnic and stay a little longer!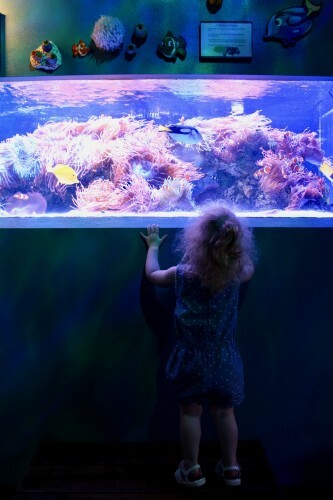 Falls Park
Heading back downtown, our next stop was to a place you just can't miss on your visit to Sioux Falls: Falls Park! The series of waterfalls slowly cascading down the Big Sioux River has exposed layers of Sioux quartzite, a marvelous pinkish-colored stone you've likely seen all around town by now.
There are, of course, walkways around the park giving you wonderful vantage points of the falls, but the best part was venturing out onto the nearly flat stones to get up close with the trickling waters. We caught several families popping into the Falls Overlook Café for an ice cream cone – the perfect treat for a hot summer day!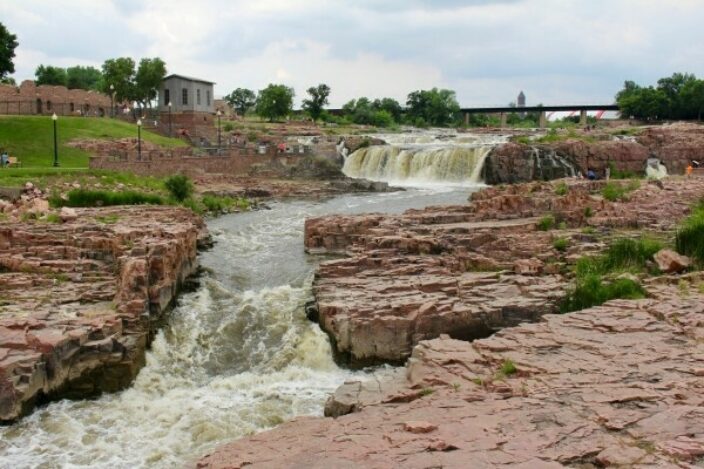 Dinner at Parker's Bistro
We had to make one final stop before our weekend concluded. After all, with so many foodie recommendations on our list, I wasn't leaving town without eating as much as possible!
So we headed over to the patio at Parker's Bistro, a classic Sioux Falls favorite, for an early dinner. Not being able to decide amongst all the delicious sounding dishes, we chose a smorgasbord of appetizers including the cheese plate, croquettes, seasonal salad, and maple sausage. Paired with Paloma cocktails, it was just the right mix of flavors to end our Sioux Falls on a high note.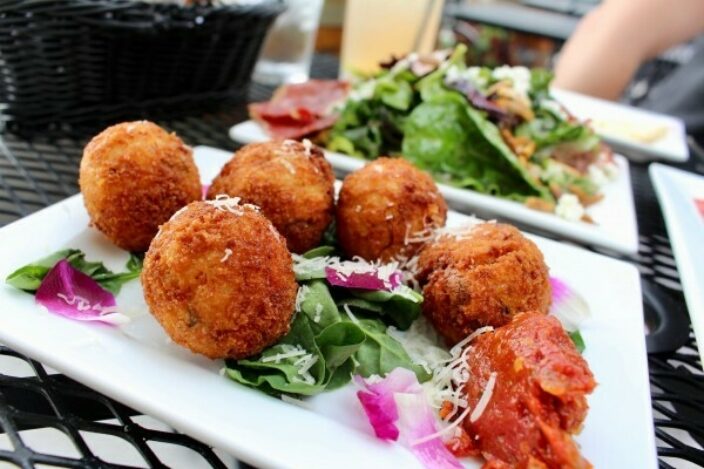 As we drove home and reflected on our weekend in Sioux Falls, we both agreed that we'd been missing out on this great city for too long!
There are exciting things happening in this "small" community of welcoming Midwesterners. So if you're looking for a family getaway that's fun, relaxing, and just all around easy, make it Sioux Falls!