Stop and Enjoy the Outdoors
Need to get outside? We know just the place. Be sure you're using social distancing during this time.
Sioux Falls offers over 80 outdoor parks that cover more than 3,000 acres throughout the city. Better yet, most of them are connected by over 30 miles of paved bike trails—all maintained throughout the year, so you can see the best of the city in any season.
Check out a few of our top parks, or stay for a while and see them all!
McKennan Park
Witness a part of Sioux Falls history at McKennan Park, our crown jewel and oldest developed park. It's conveniently located on South 3rd Avenue and features the Mediterranean Sunken Gardens, a restored bandshell originally built in 1926, and various sculptures.
Get out and play in McKennan's free wading pool, basketball court, lit tennis courts, children's play area, and more! You can reserve the picnic shelter for your next event or drop by for a day of outdoor exploring. Whatever you're looking for, you'll find it here.
Falls Park
The city's namesake offers amazing views of the roaring water from many different angles. Located on the north end of downtown, Falls Park is a must-see spot in Sioux Falls.
The five-story observation tower provides sweeping views of the park with a perfect opportunity for a photo.
Good Earth State Park
If you get a chance, take the quick drive east of Sioux Falls to Good Earth State Park– it will be well worth your time. South Dakota's newest state park has a wonderful hiking trail system throughout the park that includes various points along the trails that offer great views of the area. You will find many spots in the park for peace and reflection for your day.
Sertoma Park
Explore some of Sioux Falls' brightest hidden gems at Sertoma Park. You'll find the Butterfly House & Aquarium and the Outdoor Campus, where kids can learn about their environment through hands-on classes and exhibits. With ponds, walking trails, bike trail access, and Nordic ski trails, Sertoma is the ultimate all-season nature location.
It's also home to the Game, Fish, and Parks Department, as well as one of the state's largest picnic pavilions. With a total of 17,000 square feet, this sheltered pavilion is the perfect place for your next group gathering. And it's surrounded by five play areas that are separated for different age groups, so bring the kids for a can't-miss outdoor experience.
Yankton Trail Park
Located on South Minnesota Avenue, Yankton Trail Park is home to invitational, regional, and state soccer tournaments.
The park includes 21 soccer fields, a children's area, bike trail connection, and wheelchair access. Stop by and enjoy this beautiful outdoor space for family picnics and outdoor adventures!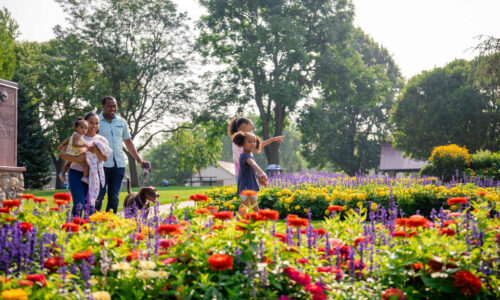 What are you waiting for?
Whether you need recreation or relaxation, we have the perfect spot ready and waiting for you. Start planning your trip to any of the parks in Sioux Falls, and plan for a day well-spent.
Plan Your Trip