At Your Service
As the city's only full-service destination management and marketing organization, Experience Sioux Falls exists to serve you as you plan your next meeting or event in Sioux Falls.

Services
We proudly offer all of the following services to event planners.

Attendance Builders
Before your attendees arrive in Sioux Falls, we can help get them excited by promoting both your event and the city. Experience Sioux Falls will partner with you by providing potential attendees with a variety of materials including:
Sioux Falls Visitor Guides
Customized brochures
Maps
Promotional Videos
Web site links/web page
Convention Registration

Efficient registration is a must for a successful meeting. We'll assist you with trained and experienced registration personnel. They can also act as greeters, registrars, or ticket takers.

Entertainment, Spouse Programs, and Youth Activities
We will provide you with a local entertainment guide, featuring talent in several areas including musicians, speakers, magicians, dance performances, and more. We can assist you in planning activities such as theme events, city tours, speakers, spouse programs, and youth activities. If you have something special in mind, please let us know in advance and we'll do our best to make it happen.

Information Welcome Table
Help your guests find their way around Sioux Falls. We provide information that offers free resources regarding Sioux Falls and its attractions and services. Our friendly and knowledgeable staff can be on-hand to answer questions. There is a nominal fee of $5 per hour for each convention assistant.

Mobile App
Use our mobile app to discover things to do, food to eat, and places to see in Sioux Falls.

Itinerary Planning
Whether you are planning a motorcoach tour or a group program, we can help plan your route, timing and give contact names. Sample itineraries are available.

Name Badges
Name badges are a great way for attendees to meet each other. We offer clip-on, elastic cord necklace, adhesive badges, and/or two sizes of lanyards at a minimal cost for your event in Sioux Falls. Name badges can be pre-printed for groups. All names must be submitted no later than two weeks prior to your event.

Promotional and Printed Material
We want your group to get to know Sioux Falls. We will provide you with the following promotional and printed material to be distributed to your participants at registration areas, information booths, and convention hospitality rooms:
Official Visitor Guide
This definitive guide to Sioux Falls provides a full range of information on restaurants, calendar of events, hotels, attractions and coupons. A visitor map is also included in the guide.
City Map
City maps help you navigate your way around our city with ease. Printed visitor maps and customized digital maps are available upon request.
Folders/Bags
Folders or bags are a convenient way to distribute your convention materials or city brochures.
Public Relations Assistance

Experience Sioux Falls can assist you with public relations surrounding your event. This includes:
Media Releases
Official Welcomes
Media Lists
Digital Images

Resource Listing
Our experienced staff is highly skilled at networking with local convention, meeting, and event suppliers. We will help you find any vendor, from bus companies to caterers.

High Resolution Images
We offer high resolution images upon request.

Step-On Guide
Your step-on guide will give you a personalized tour of the city. Advanced reservations are required. Nominal fee.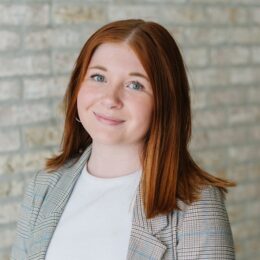 Briana Jewell
Hospitality Marketing Manager