What's New for Professional Planners in Sioux Falls
Things are changing so quickly nowadays. It's hard to keep up. We get it. So, we put together a summary of what to expect for new offerings in Sioux Falls so you can get straight to the good stuff.
SculptureWalk
Downtown Sioux Falls has welcomed over 65 new sculptures for this year's installation. SculptureWalk continues to be an iconic part of Downtown Sioux Falls, with both residents and visitors alike looking forward to seeing the new incredible works of art each year.
Levitt at the Falls
Levitt at the Falls has announced its 2023 summer concert line-up, with concerts beginning in June. Levitt at the Falls is an outdoor concert venue in Downtown Sioux Falls that offers 50 free concerts every summer, with concerts being held each Thursday, Friday, and Saturday evenings.
Comfort Inn & Suites Sanford Sports
The Sanford Sports Complex will soon be welcoming another hotel to its campus, joining Fairfield Inn & Suites Sioux Falls Airport. The new 86-room Comfort Inn & Suites hotel is expected to open Summer 2023. This will be a convenient location for those attending sports events at the Sanford Sports Complex.
Steel District
The Steel District is a $200 million development underway in Downtown Sioux Falls that will include a hotel, office space, condos, restaurants, shopping, and more. Construction has been moving along, with the first phase of office space and restaurants expected to open later this year.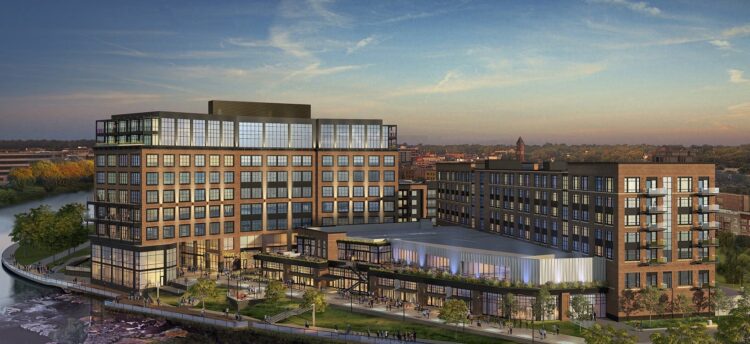 Canopy by Hilton
Canopy by Hilton is a 216-room, seven-story hotel that will be part of the Steel District. The hotel will feature meeting space for up to 1,200 attendees, onsite restaurants, and views of the Big Sioux River. The hotel is expected to open in the second half of 2024.
Ice Ribbon
Adjacent to the Steel District will be the Jacobson Plaza, which will feature an ice ribbon for skating purposes during the winter months. Jacobson Plaza will also include an all-inclusive playground. The ice ribbon is expected to be open in time for the 2024 holiday season.
Additional Planner Resources
Unique venues, convenient hotel space, and plenty of off-the-clock activities. Take a deeper dive into planning an event in Sioux Falls.
Learn More