Stay Active with These 8 Activities
We all crave those perfect sunny days that summer brings. Make the most of the warm weather with these eight activities that are perfect for a sunny day.
Wild Water West Waterpark
Laying out and getting a tan, floating through the Lazy River, or feeling the thrill of going down the slides—whatever your mood is, Wild Water West Waterpark will keep you happy. A beautiful oasis awaits you just a few miles west of Sioux Falls.
Flow and Paddle
Get out on the water at Lake Lorraine with rentals from Flow and Paddle such as kayaks, pedal boats, or stand-up paddle boards. Looking for something unique? Try a "Yoga on the Water" session from Flow and Paddle's instructor.
Great Shots
Since its opening, Great Shots has quickly become a local favorite spot that is loved by both kids and adults. No golf experience is required here! Take a few swings as you play the interactive games on screen. Not into golf? We're confident that you will enjoy the atmosphere and the tasty food and drinks that are brought directly to your bay.
Levitt at the Falls
Who doesn't love a free concert?! Levitt at the Falls offers 50 free outdoor concerts on Thursdays, Fridays, and Saturdays all summer long. Bring your own lawn chair or rent one onsite. An adult beverage service is available as well as several food trucks, but you are welcome to bring your own food too.
Big Sioux River Recreation Trail
If you're looking to get out for some exercise there's nothing better than the Big Sioux River Recreation Trail. While it's always referred to as the bike trail by locals, the trail is also open to walkers, runners, roller bladers, you name it. The trail is over 34 miles, including a 19-mile loop passing through many city parks along the way.
Great Plains Zoo
See the monkeys swinging around, bears splashing in the water, or giraffes snacking on some leaves. A wide variety of animal encounters await at the Great Plains Zoo! Don't miss the Delbridge Museum of Natural History before you leave. This rare collection gives you an up-close view of some of the most exotic mounted animals in the world.
Canaries Baseball
Enjoy an outing at the ballpark for a Sioux Falls Canaries baseball game. There is plenty of in-game entertainment throughout for all ages. Be sure to grab a photo with the mascot, Cagey, if you get a chance, and stick around for the fireworks show after Friday night games!
Farmers Markets
Walk through one of our farmers markets to shop for fresh produce, salsas, baked goods, and more. The Falls Park Farmers Market is held every Saturday morning from May to October on the north side of Falls Park. The Lake Lorraine Farmers Market is held every Thursday from June through October on the east side of Lake Lorraine in the Hobby Lobby parking lot.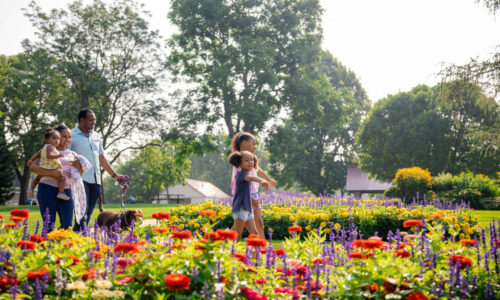 Outdoor Ideas
Read through some of our other articles for additional inspiration for things to do in the great outdoors.
Discover More