Map Out Your Sioux Falls Adventure
Make a plan of things to do now so you can spend more time during your trip enjoying the many different offerings in Sioux Falls. Summer, fall, winter, or spring– there's an activity for everyone.
1. Weekend Brunching
Get your brunch game on by hitting up a few local favorites, Queen City Bakery and All Day Cafe. At Queen City Bakery you will find a plethora of homemade goods and pastries such as muffins, scones and biscuits. Don't forget to try their quiche! If you're a big breakfast fan, then All Day Cafe is your spot. You can order from their breakfast menu all day long, which makes this the perfect place for brunch. Their AM Nachos are unbelievable!
2. Tour the Parks
Admire the beauty at the Japanese Gardens in Terrace Park as you stroll along Covell Lake. Take time to stop and sit on a bench along the way as you take in the intricate details of the Gardens. At Arrowhead Park we encourage you to explore the walking trail that winds through the park and next to a large pond. This is one of the lesser-known parks so you can enjoy the true sounds of nature.
3. Activities for the Kids
Keep the kids entertained while you collect points to win that weekend getaway. The Kirby Science Discovery Center at the Washington Pavilion is an explorer's dream. With so many hands-on activities, hours can be spent here learning and having fun. Don't worry, we're confident that adults will also enjoy it. Be sure to take the kiddos to the Museum of Visual Materials so that they can partake in one of their children's activities or classes where they can dive in to some arts and crafts.
4. Falls Park
You can't possibly forget a stop at Falls Park! Get an aerial view of the park by going to the top of the five-story observation tower at the Visitor Information Center. While you're there, be sure to take a look at the latest Sioux Falls merchandise and pick up a t-shirt for your friend back home. The Overlook Café at Falls Park is a fantastic lunch option. They are serving up some delicious sandwiches and sides, not to mention dessert too. Plus, you get to see the Falls while you're eating. Lunch with a view?! Count us in!
5. Catch a Show
Regardless of everone's struggles, music always brings people together. Enjoy some great national touring acts at The District. Past artists have included Kane Brown, Dan + Shay, Josh Turner, Milky Chance and more.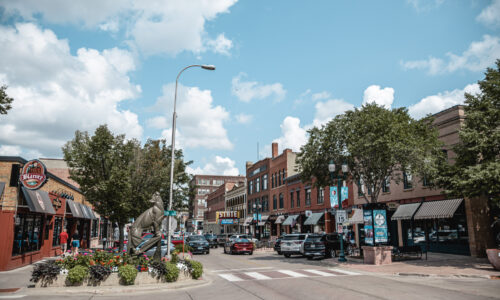 Discover More Things to Do
Sioux Falls is full of activities year-round that your entire family can enjoy.
Read More