Enjoy the Sounds of Winter in Sioux Falls
Experience the best of the winter season with live music, ice skating, holiday fun, and more. Be sure to add these to your winter to-do list.
Live Music at Paramount
Cozy up at Paramount and listen to some live music while you enjoy a small bite to eat and a drink. This quaint bar is part of Downtown Sioux Falls mainstay, Minervas, so you can also order food from that menu.
Winter Wonderland
Winter Wonderland at Falls Park is a big hit every year during the holiday season in Sioux Falls. Listen to some of your favorite holiday tunes synced to the twinkling lights as you drive through the park. Winter Wonderland can be viewed each night from mid-November to early January.
Ice Skating
Lace up the skates and take a lap around the rink as you listen to holiday music. Outdoor ice skating can be done at several parks in Sioux Falls including Tuthill Park, McKennan Park, Memorial Park, and more.
Ice skate rinks will remain open during the winter, weather permitting.
Catch a Movie
Grab some popcorn, sit back, and relax at the State Theatre for a movie! This beautifully restored theatre is an iconic place in Downtown Sioux Falls showing many of your favorite classics. You can even enjoy beer or wine at the State Theatre!
Burger Battle
The annual Downtown Burger Battle is one of the most anticipated winter events in Sioux Falls. Taking place during the entire month of January, Downtown restaurants come up with a unique burger for the public to eat and rate it against the others. There's typically upwards of 30 different participating restaurants.
Sweet Treat
Satisfy that sweet tooth with a scoop or two of delicious ice cream from Stensland Family Farms! Try it in a freshly made waffle cone or get it in a dish with some of your favorite toppings. Enjoy flavors such as Salted Caramel Pecan, Peanut Butter Blunder, and Udder Me Mint just to name a few.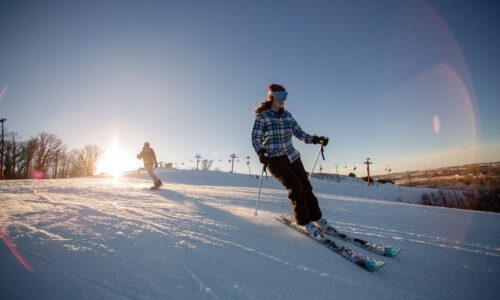 More Winter Fun
Don't just sit back and wait for winter to end — embrace it! There are so many fun winter things to do in Sioux Falls.
Winter Activities