8 Ideas for Your Next Summer Getaway
You cannot visit Sioux Falls without making a stop at the city's number one attraction, Falls Park. Listen to the roaring waterfalls of the Big Sioux River and enjoy the wide-open spaces at this beautiful park. Enjoy the sweeping views of the park and Downtown Sioux Falls from the top of the five-story observation tower.
This one-of-a-kind sculpture has become a landmark in Downtown Sioux Falls since its installment. Spanning over the Big Sioux River and rising 85-feet above the water, the Arc of Dreams makes for a great photo backdrop from any angle. See it lit up in various colors each night too!

Get out and enjoy some quiet time and fresh air by hiking the trails at one of our many parks in the area. We have options that offer nice, easy walking trails, as well as others with trails that will get your heart pumping with inclined terrain.
Searching for family fun for all? Thunder Road is the place for you! With so many activities to choose from at this Sioux Falls summer staple you likely would not be able to do everything even if you wanted to. Partake in things such as go-kart racing, mini-golf, batting cages, axe throwing, bumper cars, Hyper Bowling, arcade games, and so much more.
The Phillips Avenue Diner has been an iconic family restaurant in Sioux Falls for many years. The chefs here have created and perfected a menu that includes your classic diner cuisine, including breakfast, lunch, and dinner. Be sure to order one of their delicious milkshakes––you will not regret it!

It doesn't matter whether you're a golfer or not, Great Shots provides fun for everyone. This new facility has 60 bays spread up and down three levels. Play a variety of games to compete against one another, or simply just take a few swings for fun. Bring an appetite because they have a menu full of fantastic eats.
Enjoy a day at the Great Plains Zoo where you can see tigers, monkeys, giraffes, penguins, bears, and so much more! Explore each exhibit such as the African Savannah or Asian Cats to encounter some of your favorite animals, as well as some new ones.

Levitt at the Falls brings 50 free outdoor concerts to Downtown Sioux Falls during the summer months. Grab a spot on the grass lawn and listen to the sounds of various artists spanning a multitude of genres. Rent a chair onsite or bring your own. Beverage services will be available for purchase, and you can also bring in your own food.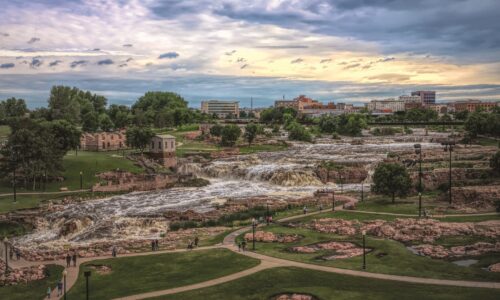 Explore More
Start planning your next Sioux Falls getaway to create memories for a lifetime!
Plan Your Trip