6 Spots for Live Music Weekly
Sioux Falls has a robust music scene all year long, but it's particularly special during the summer months. Warm weather, patio seating, live music. What more could you ask for?! Stop by these six places to catch some live music each week this summer.
Levitt at the Falls
Levitt at the Falls performances are must-see. Enjoy free concerts at this outdoor venue every Thursday, Friday, and Saturday evenings from June into September. Bring a lawn chair or rent one onsite. Food trucks and beverage services are also available.
Fridays on the Plaza
One of our local news outlets, Dakota News Now, hosts a performer each Friday from 11:30am to 1:30pm at its outdoor plaza, known as the 12th Street Plaza. Grab a bite to eat at one of the food trucks and listen to the melodies during Fridays on the Plaza.
Old Courthouse Museum Summer Concert Series
Similar to Fridays on the Plaza, the Old Courthouse Museum hosts its free Summer Concert Series on Fridays from 12pm to 1pm at its plaza behind the building. Bring your lunch and enjoy the show!
Good Earth State Park Summer Concert Series
Take in some live music on a relaxing Sunday afternoon at Good Earth State Park for its Summer Concert Series. Explore the walking trails throughout the park before or after the performance to admire the natural beauty. South Dakota State Park admission fee applies.

R Wine Bar
R Wine Bar hosts a performance multiple days each week for you to listen to as you enjoy your meal. Be sure to plan ahead and make a reservation because this place often times fills up very quickly. Keep an eye on the R Wine Bar Facebook page for a list of upcoming live music.
Bin201
Bin201 become a go-to summer spot for locals within the Sioux Falls nightlife scene. Grab a drink and sit on the recently expanded patio as you take in the sounds of live music each Friday and Saturday night. This is another place that tends to get pretty busy, so get there a little early to ensure you can get a table outside. Seat yourself at any open table.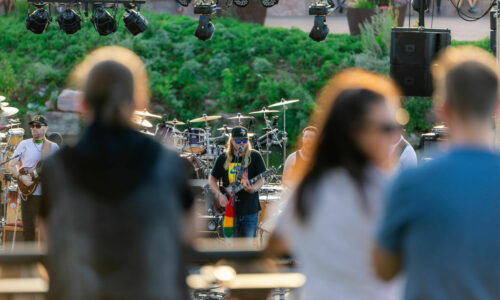 Find More Music
See what else is going on in the Sioux Falls music scene.
Search Events