6 Reasons Families Flock to Sioux Falls in the Winter
Winter in South Dakota isn't for everyone. But for families made of stronger stuff, it's the perfect place to truly enjoy the months before the groundhog sees its shadow. So don't let the snowfall scare you away—instead, revel in the wonder and delight it brings, from rosy cheeks to hot cocoa.
Stay warm on the ice
The Scheels IcePlex features three full-sized indoor ice-skating rinks and is a great new addition to the Sioux Falls community. Rent a pair of ice skates and join us for Family Open Skate, Open Hockey, or Cosmic Skate—there's something here for every age. If you're a fan of hockey, be sure to snag tickets to a Sioux Falls Stampede game at the Denny Sanford PREMIER Center when you're in town!
Soar across the snow
If you've never been sledding or snow tubing, you're missing out. Sioux Falls offers countless parks and recreational areas, but our personal favorites are Tuthill Park for downhill sledding and Great Bear Recreation Park for snow tubing. No experience is necessary, and kids (and adults) of all ages are sure to have an amazing time.
Palisades State Park
The views are always great at Palisades State Park, but there's just something about the winter scenery that really makes the rock formations stand out. Explore the trails around this park and you'll find some great photo opportunities!
Do some window (or real) shopping
Take a leisurely stroll through downtown Sioux Falls and you'll find some great window displays. Child's Play Toys showcases an oasis of charming children's toys and clothes, while Zandbroz Variety is a haven for the curious and fun-loving. And be sure to take a peek at one of the many boutiques, where you'll find great apparel for both women and men.
Warm up with a family meal at Fiero's.
While you're out and about downtown doing a bit of shopping, swing by local hotspot Fiero Pizza for quick, delicious, create-your-own pizzas the whole family will love. Follow it up with a sweet treat at the family-owned Cookie Jar, where you'll find enormous soft cookies, hand-decorated cakes, and hot cocoa.
Snowshoeing and Cross-Country Skiing
Explore the trails at the Outdoor Campus in true winter fashion- snowshoeing or cross-country skiing! The Outdoor Campus often times will have a pair that you can use for free. The well-maintained trails will give you a sense of peace and paradise in the middle of the city.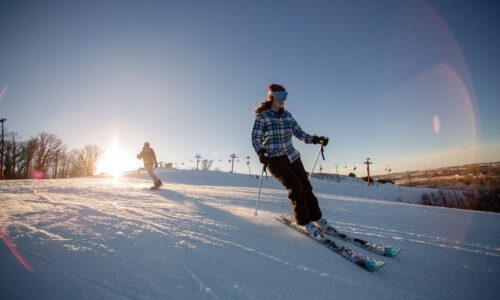 Discover More Things to Do
Sioux Falls is full of activities year-round that your entire family can enjoy.
Read More