5 Outdoor Places to Add to Your List
Experience some of the best outdoor offerings in the Sioux Falls area with these five parks and activities.
Good Earth State Park is the perfect mix of outdoor exploration and history. Enjoy the quiet sounds of nature as you stroll along the trails with various paths for easy walking or some with incline. You will find several different look-out spots where you will read about the early Native American history of those particular spots. Be sure to stop in the visitor center for an in-depth look at the history of the land and view some artifacts that were uncovered at the site that are hundreds of years old.
When looking at the surrounding area, Palisades State Park looks like it was picked up from a different state and placed in the outskirts of Sioux Falls. Surrounded by miles of flat land sits a picturesque scene of stunning rock formations that have been carved out over time by the flowing water of Split Rock Creek. Enjoy an afternoon exploring the area or reserve a camping spot for a full experience.
The namesake of Sioux Falls features a triple cascading waterfall in the heart of the city. Just north of downtown and within walking distance is Falls Park, Sioux Falls' number one attraction. Listen to the rushing water of the Big Sioux River push an average of 7,400 gallons of water each second over the 100-foot drop. Feel the power of it at one of viewing platforms near the falls or take in a sweeping view of it all from the top of the observation tower. There is even an onsite spot for lunch at the Falls Overlook Café.
One outdoor activity that is loved by locals is the Big Sioux River Recreation Trail, commonly referred to as the bike trail. In addition to cyclists, this trail can be enjoyed by walkers, runners, and roller bladers. Over 34-miles of paved trail loops around the city along the banks of the Big Sioux River and passes through many city parks, including Falls Park. Rent a bike from one of several shops in the area to cruise the trail and admire the beautiful scenery.

Looking for a hidden gem? Check out the Mary Jo Wegner Arboretum. These well-manicured grounds provide a calming atmosphere to enjoy a peaceful walk on those perfect sunny days. Walk on the paved path or go explore the wooded areas next to it. Pack yourself a picnic and make it a complete outing.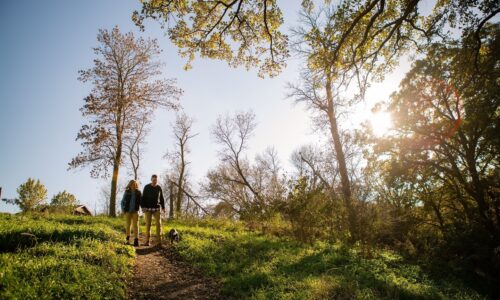 The Great Outdoors
You've made it this far so you must love exploring outdoors. See what other outdoor activities Sioux Falls has in store for you.
Let's Go