Where to Find Live Music in Sioux Falls
Immerse yourself in the soulful rhythms of Sioux Falls. Music brings everyone together in settings both large and small; there's no bad choice here when it comes to jazzy tunes, electric beats, and everything in between.
During Summer
While there's live music all year long, pay special attention to these music hotspots during summer.
Lay back on a blanket or sink into a lawn chair as you take in a musical evening at Levitt at the Falls. Enjoy 50 free concerts each summer on Thursday, Friday, and Saturday evenings.
There's nothing more relaxing than hearing calming music in a quiet setting like Good Earth State Park. On Sunday afternoons during summer you can grab a bite to eat from a food truck and listen to the birds chirp along to the melodies. (Concert schedule runs May - July)
Lunch time just got better! Gather at the 12th Street Plaza in Downtown Sioux Falls to enjoy your lunch with a side of live music. Don't worry, there's plenty of ledged seating.
Blue Rock Bar & Grill often has live music on its patio during the summer months, so grab a table and enjoy some food and drinks in the beautiful weather.
Throughout the Year
Sing along to chart-topping hits from some of the biggest touring acts at the Denny Sanford PREMIER Center. From country to rock, and old to young; there's a little bit of everything. Recent concerts include Brooks & Dunn, Journey, Kenny Chesney, and Matchbox Twenty.
The District is a great spot to see performances from up-and-coming artists across a wide range of genres. This smaller concert venue provides an intimate setting to enjoy the musical creativity.
Listen to jazz music every Thursday evening at R Wine Bar as you indulge yourself in a delicious pasta dish and sip on your favorite wine. These local artists provide the perfect ambiance for your dinner.
Catch a live music performance every Friday at noon at the Old Courthouse Museum. Bring your lunch and enjoy some tunes while you eat. During summer these performances are held outside, and during the cooler months they are held inside.
JJ's Wine, Spirits & Cigars typically hosts live music on the weekends. Stop in for a cocktail, beer, glass of wine, or a bite to eat at this local favorite on the southwest side of Sioux Falls.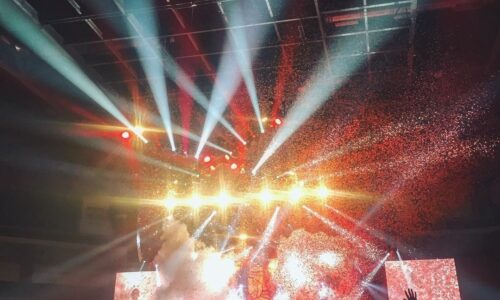 Big Concerts Coming to Sioux Falls
Plan your trip around one of the big concerts coming to Sioux Falls over the next few months.
View Concert List