Weekend Trip: Sioux Falls
This article has been modified from its original version.

Instagram blogger, Omaha Places, visited Sioux Falls and documented her top things to do and see.
Just a three hour drive from Omaha, Sioux Falls, South Dakota makes the perfect weekend trip!
What I did
There are so many cute stores in the downtown area. For women's clothing, I checked out Chelsea's Boutique and MK Threads Boutique. For unique gifts and home goods, I loved Zandbroz and Mint & Basil. And I literally pulled over to the side of the road when I saw The Deku Tree for rare and exotic plants, located just a little outside of downtown, on the way to The Falls!
On the second day I drove out to Palisades State Park, just 30 minutes outside of the city. This unique South Dakota destination has quartzite formations along the Split Rock Creek. This is a great spot to hike, bird watch, rock climb, and fish.
Where I ate
I enjoyed lunch at JL Beers for burgers and beer, pastries from the famous CH Patisserie, and dinner at The Hello Hi bar. The tropical-themed Hello Hi bar has a pizza place in the back called Pizza Cheeks. You can order a pizza and then bring it to the front to enjoy it with your drinks.
On my second day I had breakfast at the hotel restaurant before going to the Palisades. I was ready for lunch after my hike, so I stopped at Josiah's Cafe for some local coffee and brunch before hitting the road back to Omaha!
Where I stayed
I stayed at the Hilton Garden Inn Downtown known for its views of the river and easy trail access. I had a suite room with a balcony overlooking the river.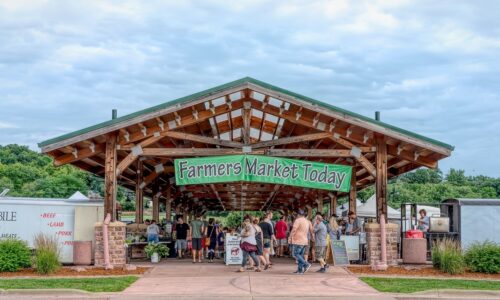 Find More Trip Inspiration
Learn more about Sioux Falls and all there is to do in the city so you can create the perfect itinerary.
Continue Reading