Sioux Falls Cocktail Bars You Need to Visit
Shake things up in Sioux Falls. There's no shortage of good drinks in this city, particularly craft cocktails. The bartenders are pouring out some amazing drinks that are calling your name. Learn more about several cocktail bars in Sioux Falls that you need to visit.
And for those that are looking for non-alcoholic options, there are plenty of delicious drinks at each cocktail bar that are handcrafted and packed full of flavor to give you an elevated experience.
Carpenter Bar has been a staple in Sioux Falls' craft cocktail scene since its opening. Chic décor is scattered throughout this intimate bar. During the summer months the tables on the patio become a coveted spot to take in the sights of charming Phillips Avenue in downtown Sioux Falls.
Sip on a delicious drink in this rustic, yet modern warehouse vibe. DaDa Gastropub also has a full food menu so you can enjoy trendy cuisine along with your cocktail. The drink menu changes seasonally, so there's always something new to try.
Taste locally crafted spirits at Glacial Lakes Distillery and Brewhouse. They make their own vodka, rum, gin, brandy, and bourbon. Sample each spirit individually or try it in a cocktail. Every syrup and liqueur they serve is made in-house too.
Highball is one of the more visually appealing cocktail bars in Sioux Falls. The bar is filled with natural light during the afternoon, and at night a colorful hue lights up the entire place giving it a relaxing vibe. The Blueberry Lavender Lemon Drop is a can't miss, but also try one of the signature highball style drinks.
JJ's Wine & Spirits has a been a fixture in the Sioux Falls scene for many years. What started out as a liquor store has expanded to include a full cocktail bar serving a wide range of drinks. You will find everything from a spirit forward cocktail like a Sazerac, to a citrus sipper like a Margarita and everything in between.
Get your tiki on at The Hello Hi! The owners designed this cocktail bar to be an escape from reality, and they knocked it out of the park. From the swanky island theme in the front to the mid-century modern furniture in the back, there are so many incredible details. And best of all, you can grab a slice from the onsite Pizza Cheeks to pair with your Mai Tai!
Walk into the bank vault and experience luxury. Literally. The building formerly was a bank for many years but has since been renovated into a boutique hotel. Rather than completely removing the bank vault on the main floor it was decided to keep the original vault door in place and use it as the entrance into The Treasury. As you walk through the door you will find a money theme in everything from the colors of the room to the drinks on the menu, such as the Counterfeiter.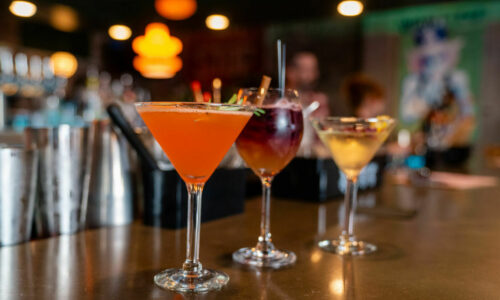 Looking for more sips and bites?
Explore more of the delicious food and drink spots in Sioux Falls.
Food & Drink