8 Great Patio Dining Spots
Sioux Falls has no shortage of outdoor dining spots to choose from, so we put together a list of some of our top patios.
1. M.B. Haskett
Many people don't know about the hidden gem that is M.B. Haskett. This small, local eatery has a back patio that can compete with the heavyweights. Tucked away between downtown buildings this patio is surrounded by incredible artwork.
2. CRAVE
The patio at CRAVE is always a hit during those warm sunny days, and with views of the Big Sioux River, how could it not be? Not only do you have a waterfront view, but you also have great views of downtown Sioux Falls.
3. Fernson Downtown
Nestled along the charming Phillips Avenue, Fernson Downtown's patio looks like a perfect oasis with lush trees providing an ideal combination of shade and sunshine. Grab yourself a pint and you won't want to move anytime soon.
4. PAve
Since PAve first opened the doors to their second-floor patio it has become a go-to spot for many locals. Whether you are going there before or after an event, or you are just looking to unwind after a busy day, PAve is a great place for downtown views. Be sure to get there early to grab a seat at one of their fire pits.
5. Look's Marketplace
Relax on the back patio at Look's Marketplace where you can take in views of Prairie Green golf course while you enjoy your meal. The peacefulness at this patio will have you feeling like you are sitting in your own backyard.
6. Tinner's Public House
The patio at Tinner's Public House includes a beautiful water feature with flowing water that creates a tranquil environment. Order an appetizer and sit back and enjoy life at this peaceful spot.
7. Blue Rock Bar & Grill
Soak up the sunshine on this second-floor patio with expansive views of the surrounding area. The patio at Blue Rock Bar & Grill is a wonderful place to hang out after some golf at the nearby Great Shots.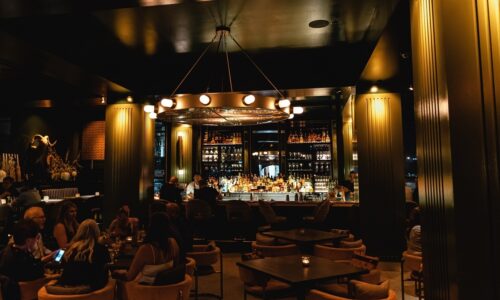 Find More Trip Inspiration
Check out some of our other articles to gather more ideas for your next stay in Sioux Falls.
Read More