8 Delicious Places for Breakfast
Start your day off right with a tasty breakfast to give you fuel for the day's activities. Take a look at these breakfast spots to add to your list.
Start your morning with a freshly baked item at CH Patisserie. Choose from options such as buttery croissants, beignets, coffee cake, and more. Be sure to also get yourself a few macarons to enjoy later!
You just can't go wrong with donuts! With several locations around Sioux Falls, Flyboy Donuts is an easy option for those on-the-go. Flyboy has everything from classic cake donuts, apple fritters, jelly filled donuts, and much more.
Locals have sworn by Bagel Boy for decades in Sioux Falls. If you are on the go then this is the perfect spot for you. Keep it simple with a homemade bagel and cream cheese or try one of their specialty bagel sandwiches.
If you're looking for some of the best baked goods in town, head straight to Queen City Bakery! The muffins and scones are top tier, but the quiche is a standout. This tasty goodness has the perfect balance of flavors.
The Phillips Avenue Diner has been a staple in Sioux Falls for many years. Omelets, breakfast burritos, waffles, pancakes, you name it. They have it all. Pro tip: order their Banana Bread French Toast.
No one leaves hungry at Original Pancake House. Known for their huge menu and generous portion sizes, this has been a longtime local favorite. Expect a decent wait for a table, but trust us, it will be worth the wait.
Looking for a very tasty breakfast with less of a wait? Stop at Kaladi's Bistro. They have all of the traditional breakfast items and added their own flare to them. Be sure to order one of their homemade Caramel Nut Rolls!
Sip on your favorite latte, espresso, or other coffee beverage as you enjoy one of their delicious breakfast options such as a Nutella Waffle, bacon, or yogurt and fresh fruit.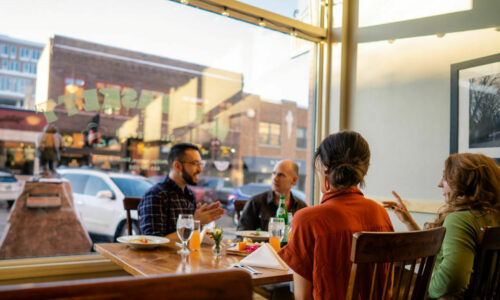 More Breakfast Options
Eggs, bacon, waffles, you name it. Sioux Falls has a spot for every one. Take a look at our other breakfast options.
View More