8 Delicious Places for Breakfast
Start your day off right with a tasty breakfast to give you fuel for the day's activities. Take a look at these breakfast spots to add to your list.
Whether you are an early riser or enjoy a late breakfast, All Day Cafe is the place where life slows down so you can sip a warm cup of coffee and eat a plate full of your breakfast favorites.
This quaint cafe in downtown Sioux Falls truly offers something for everyone, such as their breakfast flatbread, muffins, scones, pancakes, or the classic eggs and bacon. There is so much natural light beaming through the windows which will make Josiah's feel like you are right at home.
Locals have sworn by Bagel Boy for decades in Sioux Falls. If you are on the go then this is the perfect spot for you. Keep it simple with a homemade bagel and cream cheese or try one of their specialty bagel sandwiches.
M.B. Haskett is the place that will have you hooked after your first visit. They have a little bit of everything, but their savory crepes are the true stars of the show. We can assure you; you won't be disappointed here.
The Phillips Avenue Diner has been a staple in Sioux Falls for many years. Omelets, breakfast burritos, waffles, pancakes, you name it. They have it all. Pro tip: order their Banana Bread French Toast.
No one leaves hungry at Original Pancake House. Known for their huge menu and generous portion sizes, this has been a longtime local favorite. Expect a decent wait for a table, but trust us, it will be worth the wait.
Looking for a very tasty breakfast with less of a wait? Stop at Kaladi's Bistro. They have all of the traditional breakfast items and added their own flare to them. Be sure to order one of their homemade Caramel Nut Rolls!
Sip on your favorite latte, espresso, or other coffee beverage as you enjoy one of their delicious breakfast options such as a Nutella Waffle, bacon, or yogurt and fresh fruit.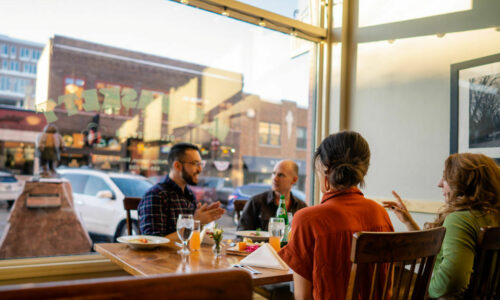 More Breakfast Options
Eggs, bacon, waffles, you name it. Sioux Falls has a spot for every one. Take a look at our other breakfast options.
View More