5 Ways to Experience Sioux Falls & Seasonal Sounds
There's music all around us—embrace it and be inspired. Here are five musical experiences in Sioux Falls to add to your list.
Levitt at the Falls
Vibing to the music and being in the moment. That's what Levitt at the Falls is all about. You can experience 50 concerts all summer long. And best of all, they're free! There's a new artist waiting for you to discover them.
Fridays on the Plaza
Grab a meal from a food truck and listen to the sounds of live music during Fridays on the Plaza. This lunchtime event takes place each Friday during the summer at the 12th Street Plaza, near 12th Street and 1st Avenue in Downtown Sioux Falls.
Falls Park Farmer's Market
The Falls Park Farmer's Market is a summer staple in Sioux Falls. Each Saturday morning from May to October you can shop from local vendors selling fresh produce, flowers, baked goods, and more. Grab a coffee and listen to the live music performances as you wander through the market.
Bin201
A can't-miss music experience in Downtown Sioux Falls is the live performances on Friday and Saturday nights at Bin201. The expansive patio allows for plenty of seating for you to sit back, relax, and enjoy some music as you sip on your beverage of choice.
Downtown Sioux Falls
There's no better feeling than stumbling upon a live music performance in a quaint atmosphere, and one of the best ways to discover that is by walking around Downtown Sioux Falls as you admire SculptureWalk. During the summer you will find many different bars and restaurants hosting live music on the weekends, both indoors and outdoors. So, go take a walk. You may just find a new favorite spot.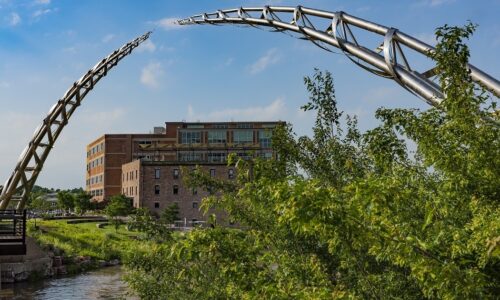 Discover More Arts & Culture Experiences
Live music is just the beginning. There's so much to discover in Sioux Falls such as art galleries, theater, and beyond.
Show Me More