Thursday, July 07
All Day
July 7-9
Levitt at the Falls, The Smithsonian's Lemelson Center for the Study of Invention and Innovation, and USA Skateboarding are collaborating to create a one-of-a-kind "Innoskate" festival coming to Sioux Falls, July 7-9.
The Innoskate festival brings skateboarding and local communities together in a dynamic exploration of invention, creativity, fun and freedom of expression. Discussions and live concerts featuring the Smithsonian Jazz Masterworks Orchestra ensemble and other national and local artists will examine the deep connections between music, skateboarding, creativity and innovation.
In addition, professional and Olympic skateboarders, inventors, scientists, artists and local community leaders will engage audiences through a variety of demonstrations, conversations and hands-on activities that explore the impact of skateboarding innovations in American culture.
Leading figures will discuss skateboarding technology, issues of diversity and inclusion, skateboarding's role in promoting physical and mental health, and nurturing the growth of the skate community in Sioux Falls.

A FREE FESTIVAL WITH SKATEBOARDING, INVENTION, CREATIVITY, AND FUN
Innoskate Sioux Falls 2022 Festival Activities:

Skate demonstrations with pro skaters

Panel discussions with professional and Olympic skateboarders, inventors, scientists, artists and local community leaders

Interactive invention activities from the Smithsonian's Lemelson Center of Invention and Innovation

Mobile skatepark from the Sioux Falls Skatepark Association

Learn to skate clinics

Art Alley with interactive art activities and working artists

DTSF vendor skater village

Skateboard deck art show at Rehfeld's Art Gallery

A Visual Sound skate film in concert with Smithsonian Jazz Masterworks Orchestra and filmmakers Chris Pastras and Jason Lee

"Best Trick" contest

Free concert headlining performances from Smithsonian Jazz Masterworks Orchestra, Dessa, and Meet Me @ The Altar
Free Visitor Guide

Get the official guide for your journey through the city.
10 Cheap or Free Things to Do
Coming to Sioux Falls for Innoskate? Check out this list of fun activities that can be enjoyed for little to no cost.
See Activities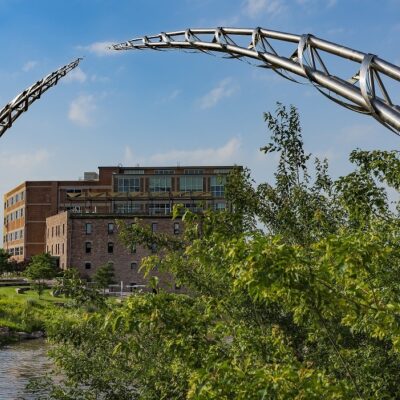 Repeats: Jul 8, 2022, Jul 9, 2022