Favorite Activities from a Local Musician
Total Drag
If you are a fan of vinyl records then Total Drag is a place that you need to add to your list. You will find a great selection of records across many genres. It's easy to spend more time in this store than you anticipated by just browsing through their huge selection.
You can even hear some up-and-coming musicians at Total Drag as they perform on select nights and weekends.
The Source Roastery + Taproom
You will always find people at The Source all throughout the day. This place, located at the Jones Seed Co. building, has become a favorite hangout spot for coffee dates, people working remotely, and even beer drinkers. Yes, you read that right! The Source has 16 craft beers on their "Tapwall" where you can fill up your glass at your own pace while paying by the ounce.
Boki European Street Food & Gelato
While you are at the Jones Seed Co. building be sure to enjoy a meal too. There are several eateries in this building (just steps away from The Source), with Boki European Street Food being one of them. Enjoy classic European street food like pitas, gyros, and more. Be sure to also stop at their Gelato station where you can choose from a huge selection of flavors.
Levitt at the Falls
Any live music fan will appreciate what Levitt at the Falls offers. This outdoor music venue brings up to 50 free concerts to downtown Sioux Falls during summer for people of all ages. The grass lawn provides plenty of room to spread out, relax, and enjoy the sounds. Feel free to grab a to-go meal from one of the many restaurants nearby to eat during the concert.
That Sounds Decent
That Sounds Decent has become a fantastic outdoor music festival in downtown Sioux Falls that showcases the talents of some great young, local musicians. Enjoy a night filled with concerts, food trucks, and more.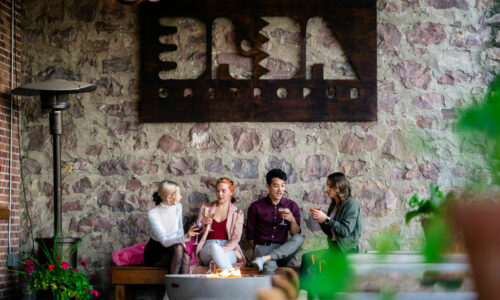 Discover More Things to Do
Sioux Falls is full of activities year-round that your entire family can enjoy.
Read More