5 Ways Empty Nesters Spend Summer in Sioux Falls
Now is the time to do what you want. Summer in Sioux Falls brings many opportunities to seize the moment and make new memories with close friends or your significant other.
We thought we'd share a few of our own favorite summertime activities to give you ideas for ways to spend your hard-earned vacation days and weekends.
#1 Attending Outdoor Social Events
We cannot get enough of outdoor concerts and events. One of our top picks, Levitt at the Falls, provides free concerts every summer. During the summer months guests can enjoy 50 free outdoor concerts on the lawn. Bring your own chairs or rent some onsite and listen to a variety of genres. Feel free to grab some food to-go from one of the many restaurants in the area and bring it with you to eat while enjoying the music. Adult beverage services are also available onsite, so they really do have the complete package when it comes to entertainment.
Folk-Off & Rib Challenge is another great Sioux Falls festival. Hours can be spent here sampling different flavors of succulent ribs. You'll get a great variety of flavor as meat masterminds cook up mouthwatering meals just for you. The entertainment, featuring great local music, is just as good as the ribs.
Finally, Hot Harley Nights, which benefits Make-A-Wish® South Dakota, is something we mark our calendar for every year. The city becomes a Harley-lover's heaven as thousands of motorcycles are on display. You can watch or ride but, either way, the party lasts all night!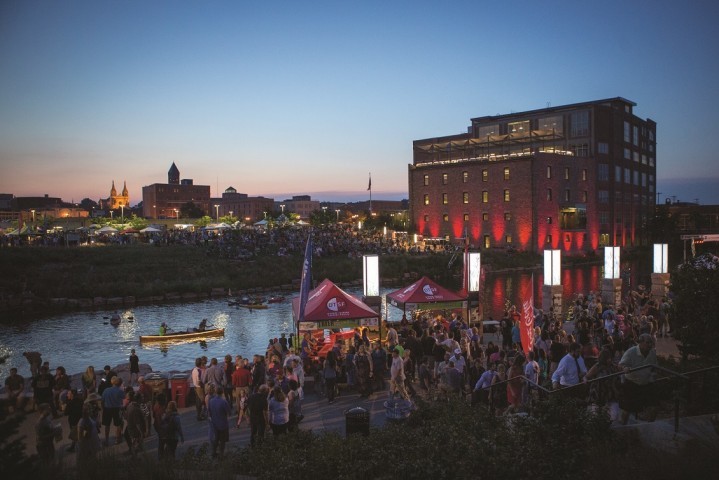 #2 Sitting on the Patio
Enjoying a meal or cold beverage along Phillips Avenue in Downtown Sioux Falls is a highlight of summer in this city. When you're craving a tender, juicy steak but don't feel like firing up the grill, head straight to the patio at Minerva's Restaurant & Bar. Afterwards, walk next door to CH Patisserie and indulge in every bite of their gourmet lemon tart or choose from a variety of macarons.
On a beautiful week night, we recommend a table outside at CRAVE, the Hilton Garden Inn Downtown's restaurant. Their river view is spectacular!
For brunch, our top picks are All Day Cafe and M.B. Haskett. In addition to their beautiful outdoor seating, you can't go wrong with a single menu item from either eatery. Be sure to check out the Bloody Mary bar on Saturdays at Ode to Food and Drinks.