5 Dog-Friendly Spots to Visit
Dogs deserve to have fun too, right?! Sioux Falls has plenty of dog-friendly establishments spread throughout the city, but here are five that stand out downtown.
Your dog(s) will feel right at home at Josiah's! Relax in this inviting atmosphere that has some top-notch food. The Breakfast Flatbread is a must-try!
Sip a beer and enjoy a pizza at Monk's Ale House with your doggo by your side. Saddle up at the bar, take a booth in the corner, or spread out on the patio. Choose from 50 beers on tap at Sioux Falls' original craft beer bar.
Cold beers and great views – of your dog, of course! Grab a table inside or enjoy the weather on their expansive patio. Four-legged friends are always welcome at Remedy.
Bread & Circus is the type of place where you would be content just sitting there all day munching on food. Their menu is full of delicious sandwiches with plenty of creativity behind them. Whether you plan to stay for 20 minutes or two hours, your dog will be happy right by your side.

Enjoy your favorite beer and a bite to eat at Fernson Downtown. Their patio provides a perfect atmosphere, so try to claim a table outside if you can. There's a good chance that there will be other dogs on the patio too, so your dog can make some new friends during your Fernson outing.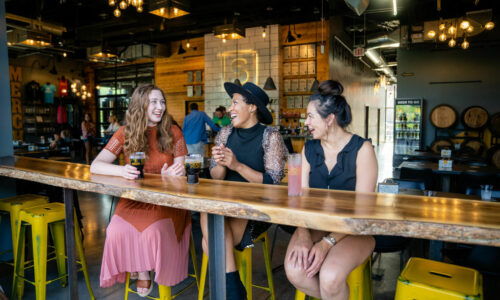 Let's Eat
Each restaurant has their own policy when it comes to allowing dogs, so discover everything Sioux Falls has to offer.
View More Eateries