11 Sioux Falls Hidden Gems You Need to Visit
There are hidden gems around every corner in Sioux Falls, you just need to know where to look. We asked our followers for some of their favorite hidden gems, and these were some of the responses.
A food truck turned restaurant has been slinging delicious burgers since its inception. Located on the east side of Sioux Falls along a busy stretch, Murph's might be easy to miss but its burgers are a CAN'T-MISS!
A walk on the grounds of the Mary Jo Wegner Arboretum is exactly what you need to help relieve some of the stress of your everyday life. This place is beautifully maintained to create a calming environment for an afternoon walk.
Phnom Penh is labeled as a Cambodian restaurant, but don't let that scare you because they have some amazing dishes such as Pad Thai and Stir Fry. They also have a large menu of some of your favorite traditional Chinese dishes like Orange Chicken and Sesame Chicken.
The Full Circle Book Co-op has been a downtown gem for a few years with a passionate following from locals. They have a wide range of books to purchase across many different genres. But they also have seating areas around the store, including a hidden patio for you to cozy up and read your favorite book. Best of all, they serve beer, wine, and coffee!
We all know tacos are great, but when homemade tortillas are involved it brings tacos to a whole new level. And that's exactly the case at Tortilleria Hernandez. Their street tacos are made with a soft tortilla made in-house with your choice of steak, chicken, or pork.
La Luna Café is still relatively new to the Sioux Falls landscape but it's one of those places that deserves much more recognition than it receives. Whether you're just stopping in for a coffee or eating a meal, everything on their menu is to die for.
Argentinian restaurants aren't exactly common in this region, so when you come across one such as Tarquin you know it's the real deal. They have more than five types of empanadas to choose from in addition to a wide array of authentic Argentinian main courses.
Sunny's Pizzeria is no ordinary pizza joint. This is a place where pizza is reimagined. Forget your typical single topping pepperoni pizza and be adventurous. The team at Sunny's has created a large menu of unique pizzas with toppings piled high.
The warm and intimate vibe at Mama's Ladas will have you feeling right at home. When you are good at something you zero in on it. And that's exactly what Mama's Ladas has done. Enchiladas are in the name and it's the main entrée on the menu. You won't be leaving this place still hungry.
Vinyl records have attracted a wave of new fans in recent years making this classic style stronger than ever before. Crosstown Vinyl has become a go-to spot to shop both retro and new records across a wide array of genres.
While Sioux Falls offers many parks to enjoy, Arrowhead Park is certainly a hidden gem. This quiet spot across from the Mary Jo Wegner Arboretum has two small lakes and a walking trail throughout the park, making it the perfect spot to relax and reflect.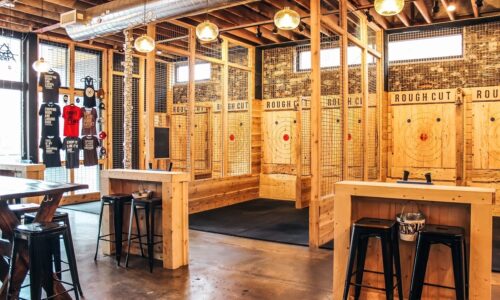 Discover More
Find out what else you might be missing out on in Sioux Falls. There's a surprise waiting for you around every corner.
Things to Do