Welcome to The Visitor Beat, the monthly newsletter of Experience Sioux Falls. Stay up-to-date on what's going on locally in the travel industry, as well as what's trending nationally.
New Bus Wrap Welcomes Visitors & Promotes Exploring the City
Experience Sioux Falls recently created and invested in a vinyl advertising wrap that was placed on a Sioux Area Metro bus with a message to welcome visitors, generate awareness of the visitor industry, and remind the community to explore right here at home.
In statistics sourced from All Over Media, more than 95% of Americans are reached by media targeting vehicle drivers and passengers, while generating 30,000 to 70,000 daily vehicle impressions dependent upon market size.
Share your photos with us if you see the bus around Sioux Falls.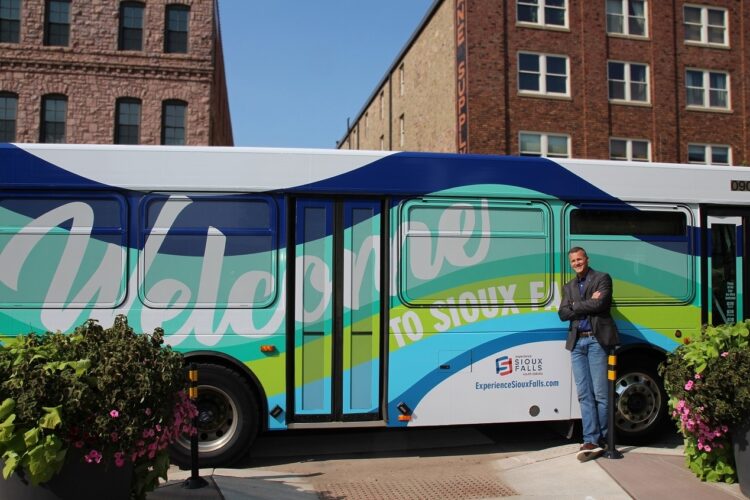 New Video Series
In case you missed it, earlier this month Experience Sioux Falls released their latest video, Family Fun Finder, in their new "We Are Sioux Falls" video series. The purpose of this video series is to showcase authentic and original stories about the people and places that make Sioux Falls a travel destination. You can watch the first video, Active Adventurer, on the Experience Sioux Falls YouTube channel.
Sioux Falls Sourced
Experience Sioux Falls has launched a new campaign called Sioux Falls Sourced. The campaign will feature custom branded boxes with a variety of locally produced items including soap, salsa, hot sauce, pottery, candles, and more. The target audiences will include both leisure consumers and business planners in targeted geographic locations. Users will be encouraged to enter to win one of four seasonal boxes over the course of the coming year, which will generate new leads to prospect and market to.

Hunters Welcome Event
The Experience Sioux Falls team is preparing for their annual Hunters Welcome event at the Sioux Falls Regional Airport October 14-15. Pheasant hunters flying into Sioux Falls prior to opening day of the South Dakota pheasant hunting season will be greeted at the airport as they come down the escalator. The Experience Sioux Falls team will be handing out hunting branded mugs as a gesture of gratitude for choosing Sioux Falls as their fly-in destination. Various other businesses and organizations will also be on-site to provide the hunters with information and apparel for their hunt.

Interested in being a vendor at the Hunters Welcome event? Please contact Melea Harris for more information. Melea@ExperienceSiouxFalls.com. Limited vendor spots are available, so don't wait.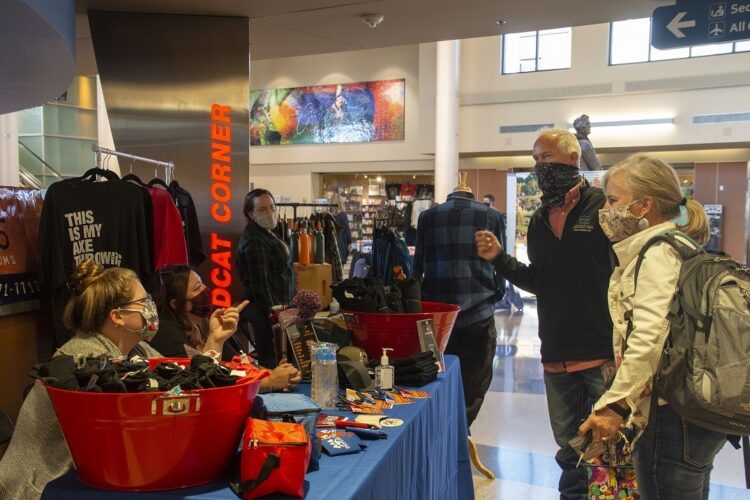 Annual Report
The 2020 Experience Sioux Falls Annual Report is now finalized. Despite the COVID-19 pandemic, the Sioux Falls visitor industry managed to perform better than many competitive cities around the country.
Great Plains Region of Sertoma
Sertoma Inc. is an organization of service clubs whose primary focus is on hearing health issues and educating the public on issues surrounding hearing health. The Great Plains Region of Sertoma is hosting their 2021 Regional Convention in Sioux Falls September 24-25. Around 125 people are expected to attend from Iowa, Minnesota, Nebraska, North Dakota, and South Dakota.
Festival of Bands
The 34th Annual Festival of Bands will be held Saturday, October 2 at Howard Wood Field. The Festival of Bands features a full day of marching activities for a large lineup of bands from South Dakota, Iowa, Nebraska, and Minnesota. This 34th year of competition is expected to draw up to 15,000 people from Sioux Falls and around the region.
RRCA Designates Sioux Falls as a Runner Friendly Community
The Road Runners Club of America (RRCA) recently designated Sioux Falls as one of two Runner Friendly Communities for summer 2021, with Rochester, MN being the other city. Runner Friendly Communities have shown that they meet the program's criteria, which includes community infrastructure, community support, and local government support for running.
The goal of the RRCA's Runner Friendly Community program is to shine a national spotlight on communities that standout as runner-friendly and provide incentives and ideas for communities to work towards becoming runner-friendly communities. Runner Friendly Communities can increase the quality of life, improve physical activity for residents, and provide increased economic impact for the community.
Sign-up below to be included on the distribution list to receive this monthly newsletter.
Interactive Dashboard
Request access to view an interactive dashboard of Sioux Falls visitor statistics.
Request Access