Welcome to The Visitor Beat, the monthly newsletter of Experience Sioux Falls. Stay up-to-date on what's going on locally in the travel industry, as well as what's trending nationally.
To request access to view an interactive dashboard of Sioux Falls visitor statistics click here.
Recent Travel Show & FAM Tour
Experience Sioux Falls sales manager, Jackie Wentworth, recently attended the Rocky Mountain International (RMI) Annual Round-Up travel show last month in Fargo. RMI is a five-state public/private partnership marketing South Dakota, North Dakota, Montana, Wyoming, and Idaho as the Great American West. At the travel show, Jackie met with 39 international tour operators/travel agents who own or work for travel companies that assist independent travelers in planning their vacations to the United States. Countries represented were France, Germany, Italy, UK, Australia, and the Netherlands.
RMI allows Experience Sioux Falls to meet face-to-face and build relationships with international representatives educating them on the many attractions, lodging opportunities, restaurants, and amenities that Sioux Falls has to offer international travelers.
Following the travel show, Experience Sioux Falls along with the South Dakota Department of Tourism hosted two separate FAM tours (familiarization tours) that included a total of 13 international tour operators/travel agents from the six countries represented. The itinerary included visits to many of Sioux Falls' attractions to see firsthand what Sioux Falls has to offer their travel clients when coming to the area.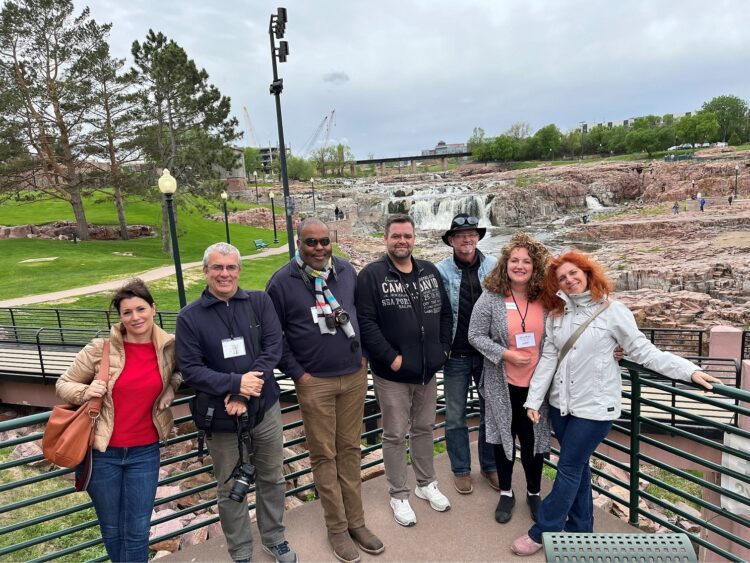 Group Tour Market Rebounding
The group tour (bus tour) industry is returning to its pre-COVID pace and Sioux Falls hotels are seeing that specific travel market rebounding. Experience Sioux Falls works directly with tour companies across the country creating customized itineraries for each group.
Last month, Sioux Falls saw a resurgence of multi-day stays, specifically mystery tours with Sioux Falls serving as the only destination. A mystery tour is where individuals sign up to go on a bus tour not knowing where they are going to go. Many folks enjoy the thrill of having their travel destination be a complete surprise and unfold day by day. Each day's itinerary is packed with activities and attractions, and the travelers are always pleasantly surprised by all there is to experience in Sioux Falls.
Once a tour company has that first positive experience in Sioux Falls, they are likely to return with additional tours. Several companies have now included Sioux Falls on their regular rotation of multi-day tours.
Volunteers Wanted for National Veterans Golden Age Games
The Sioux Falls VA Health Care System is seeking volunteers for the upcoming National Veterans Golden Age Games, which will be held July 18-23.
The National Veterans Golden Age Games is the premier senior adaptive rehabilitation program in the U.S., and the only national multi-event sports and recreational competition program for seniors designed to improve the quality of life for all older veterans, including those with disabilities.
The Golden Age Games are open to veterans, age 55 or older, who receive health care from the U.S. Department of Veterans Affairs. The weeklong event expects to bring in approximately 500 veterans from around the country to compete in 14 medal events including air rifle, swimming, golf, track and field, basketball, and more. A variety of fields and facilities will be used throughout Sioux Falls for this event.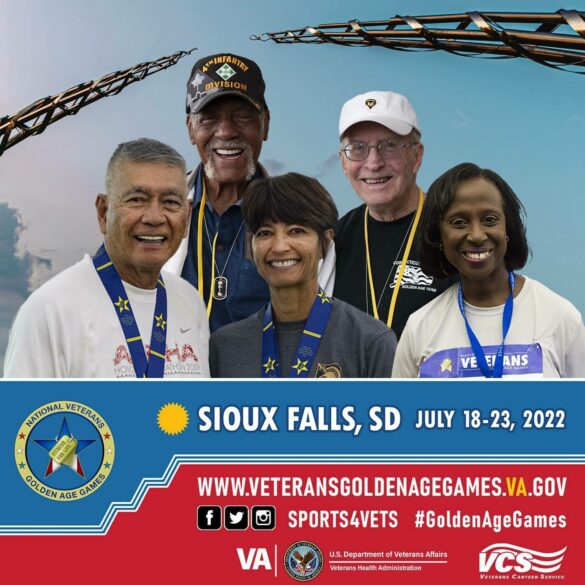 Comfort Inn & Suites Receives Award
Choice Hotels announced its award winners at the company's annual convention in Las Vegas in May. The awards — the company's most coveted accolades — recognize the top Choice hotels for their superior performance and outstanding guest ratings.
Sioux Falls' Comfort Inn & Suites was one of 18 hotels globally recognized with a Best of Choice award. The award recipients were selected for their demonstrated commitment to superior guest service and operational excellence. One hotel was selected from each Choice brand segment in the company's domestic and international portfolio.
Omaha Influencer Visits Sioux Falls
Experience Sioux Falls hosted Omaha-based influencer, Omaha Places, last month for two days of exploring the city. Take a look at the videos and blog that were produced following the visit.

University Research Administrators Group Meeting in Sioux Falls
Experience Sioux Falls has booked the National Council of University Research Administrators (NCURA) Region IV meeting in Sioux Falls for April 29 - May 3, 2023. Organizers expect roughly 270 people to attend from the surrounding states and even Illinois, Indiana, and Ohio.
"Experience Sioux Falls is delighted to host NCURA, states Anna Derry, director of sales. "We started initial conversations about hosting a future event in Sioux Falls in 2015 and have established a wonderful relationship ever since."

Sign-up below to be included on the distribution list to receive this monthly newsletter.