Where to Get the Best Chislic
Look, it's no secret that South Dakota is known for chislic. You'll see it at many different restaurants, and locals will always recommend that you order it if you've never eaten it before. Chislic first originated in Freeman, South Dakota by a Russian immigrant over 100 years ago. But what exactly is chislic? Simply put, it's fried cubes of meat, which doesn't exactly sound appealing. But trust us, chislic is fantastic! It is traditionally made with lamb, though many restaurants have switched to using beef. The meat is cooked in a deep-fryer until medium-rare and then topped with garlic salt. This succulent meat falls apart on your tongue leaving your mouth being rushed with flavor.
Ok, so where should you go to order chislic? These are our top choices in Sioux Falls.
1. Urban Chislic
The name says it all. Urban Chislic is a new restaurant that focuses on dishes with variations of chislic. Order the originial chislic dish- lamb served on skeweres with garlic salt and saltine crackers, or choose from several options to make your favorite style. Select your meat (beef, lamb, pork, chicken) and then choose from 18 different dipping sauces or 9 different dry rubs.
2. The Barrel House
The Barrel House is still a relatively new restaurant in Sioux Falls, though it has certainly made a name for itself already. This neighborhood favorite offers their House Cut Chislic - seven ounces of hand cut, Prime, USDA beef. Order it breaded and country fried or seasoned and grilled. Served with your choice of dipping sauce. Enjoy your chislic as you catch a game on one of their many TVs, or bask in the sun on their expansive patio.
3. The Attic Bar & Grill
Located on the southeast side of Sioux Falls, The Attic Bar & Grill provides a comfortable, laid-back environment. Their chislic is perfect as an appetizer or as an entree. Enjoy it with your choice of dipping sauces of ranch, bleu cheese, BBQ, or chipotle ranch.
4. Gateway Lounge
The Gateway Lounge has been around in Sioux Falls for years. This family-friendly restaurant has a very loyal following and it has become known as the place to go to watch soccer games on TV. Their Beef Chislic is comprised of eight ounces of juicy top Sirloin tips, served with Texas toast and BBQ sauce.
5. Ode to Food & Drinks
Enjoy your chislic at this downtown hot-spot as you take in views of the Big Sioux River. The chislic at Ode to Food & Drinks is top Sirloin served with your choice of chili peanut sauce or ghost cheese sauce. Taking a spin from the traditional dipping sauce options of BBQ sauce or ranch, these delicious options are a perfect pair with your chislic.
6. Tinner's Public House
At Tinner's Public House you have the choice of beef or lamb chislic served with Texas toast, celery, and your choice of bleu cheese, ranch, or BBQ sauce. Enjoy it in their spacious restaurant or outside on their patio on those beautiful summer days.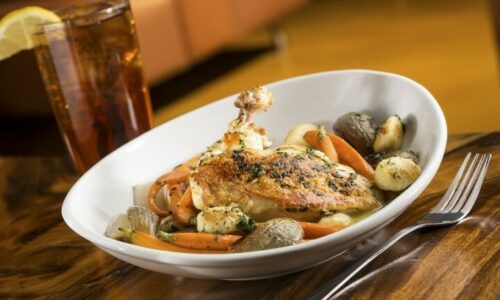 Dive Into Other Dishes
Now that you have discovered chislic and added it to your list (hopefully) take a moment to see what else you might be missing out on.
Find More