Mixing History and Adventure in Sioux Falls
Article courtesy of Intrepid Daily; written by: Wade Ellett
This article has been modified from its original version.
Confession time; before I met my wife, I had never heard of Sioux Falls. To be fair, the majority of my adventures up until that point had taken place east of the Mississippi River, but west of the Appalachian Mountains. That's a pretty limited scope when you think about it. That's why I'm grateful that the woman who would become my wife brought me home to meet her family. Not only did I end up getting hitched, I also fell a little in love with a one of a kind city.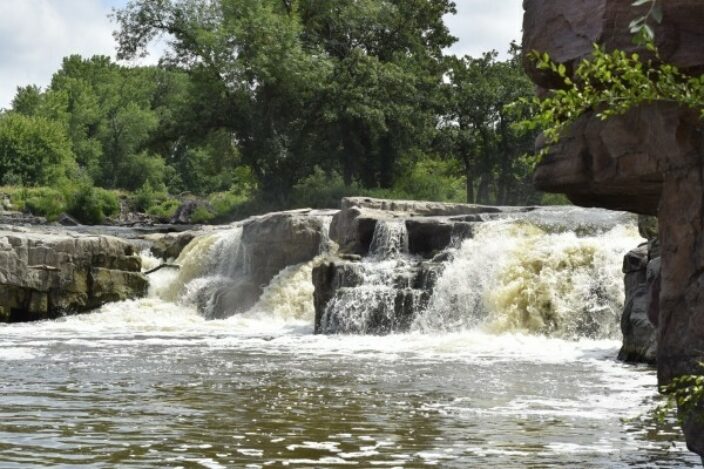 Sioux Falls: a Renaissance City
Years ago, my mentor told me that I should strive to be all things. "Of course, you'll fail," he warned, "but you'll find out what you're really about in the process." The funny thing is that Sioux Falls has done much the same, but instead of falling short, the city has succeeded in becoming something of a renaissance city. That is to say, some places provide one form of entertainment, culture, or activity, while Sioux Falls blends art and history, the great outdoors with a metropolitan downtown, small town charm with urban eats, drinks, and experiences.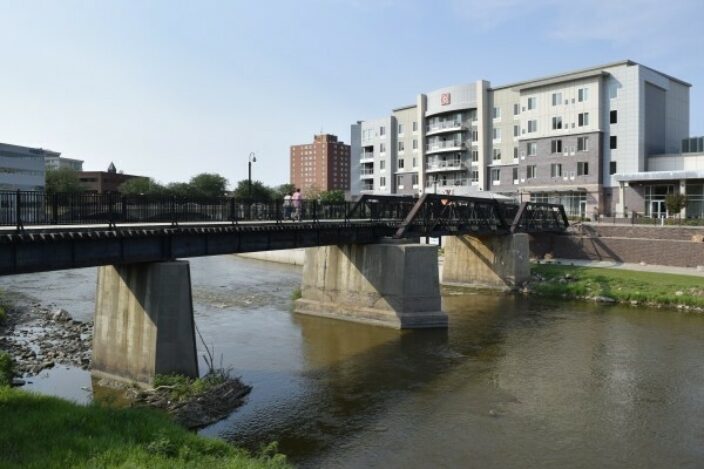 Sioux Falls has something for everyone. From hikers, craft cocktail drinkers, and families, to patrons of the arts and lovers of history, you're going to have a great time visiting this unique place.

Falls Park
As a visitor to Sioux Falls, I recommend visiting Falls Park, at least on your first time in town. Just a mile and a half from downtown, the Falls of the Big Sioux remain part of the life and culture of the city. They are, after all, the origin of the name "Sioux Falls." Native Americans shared tales of the falls with European settlers, and they would become the center of life in the city as industry grew.
History lovers will enjoy a visit to the park, home to a number of Sioux Falls' earliest buildings such as the Queen Bee Mill and the Light and Power Company Building (now the Falls Overlook Café). Art lovers will enjoy the permanent sculptures in the park. Everyone will enjoy watching the water cascade down the falls.
Urban Fitness
Many people take time off from working out when they take a vacation (or staycation, for that matter). My friends, however, tend to stay devoted to their fitness no matter where they are. Another great quality of Sioux Falls is that you can find plenty of opportunities to stay committed to your health and fitness while you're here. You've got your traditional gyms like Planet Fitness or the YMCA, but if you're interested in something less traditional, you can check out a CrossFit Gym or one of the Yoga studios. Or for a blend, you could check out the recently opened Revolution Yoga & Cycle Studio, where you can get bendy or pedal your heart out.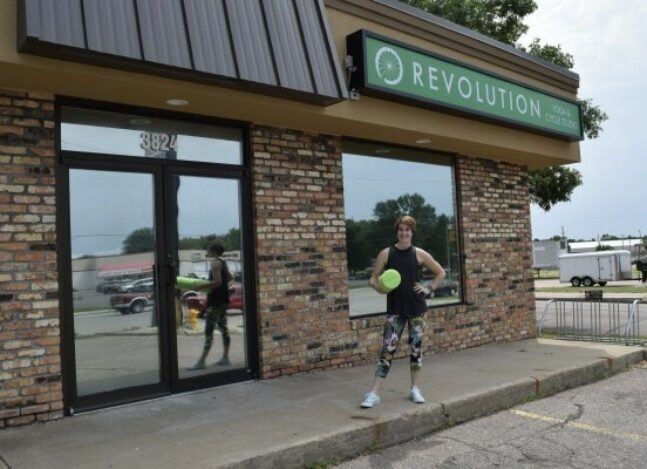 If you prefer your bikes to move, or would rather walk or run, Sioux Falls also has a great system of paths for riding, walking, or running. With Falls Park at the center, the paved Sioux Falls bike trail loop covers almost twenty miles and connects several of Sioux Falls' 80 public parks. You'll see people biking, running, walking, longboarding and roller blading. Your four legged friends are welcome on the path too, but they do have to stay on leash.
Whether you want to lift weights, do burpees, ride a bike, or run, however you choose to stay fit, you can do it in Sioux Falls.
Outdoor Recreation
If you're looking for some other outdoor activities, the Sioux Falls area still has you covered. Start by heading northeast to Palisades State Park, a short drive from the city. Here you'll find four different hiking trails, none too challenging (the longest is 1.5 miles, and the trails cover a total of 2.7 miles), but all are a beautiful way to spend some time in the great outdoors. Camping is also available at Palisades; you can choose between 34 campsites (electric or non-electric), 6 cabins, and the group lodge.

Palisades State Park also offers the only rock climbing in the Sioux Falls area. Expert climbers might not be challenged by the routes here, as the most challenging climb is graded as a 5.12. Beginners will enjoy the experience of climbing the unique exposed Sioux Quartzite found here. Of course, if you're not an experienced climber, make sure that you're partnering with someone who knows how to safely set a proper anchor and belay you safely. There are also bouldering problems in the park ranging in grade from V2 to V5.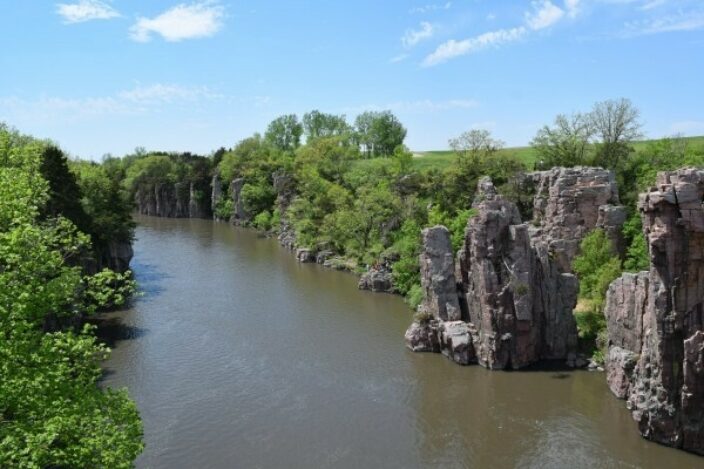 You can also head just southeast of town to visit the recently opened Good Earth State Park and Visitor Center. Over six miles of trails await you here, ranging from easily accessible walking paths leading to observations decks overlooking the Big Sioux River, to more difficult trails that follow the river's path through wildflowers and prairie grass.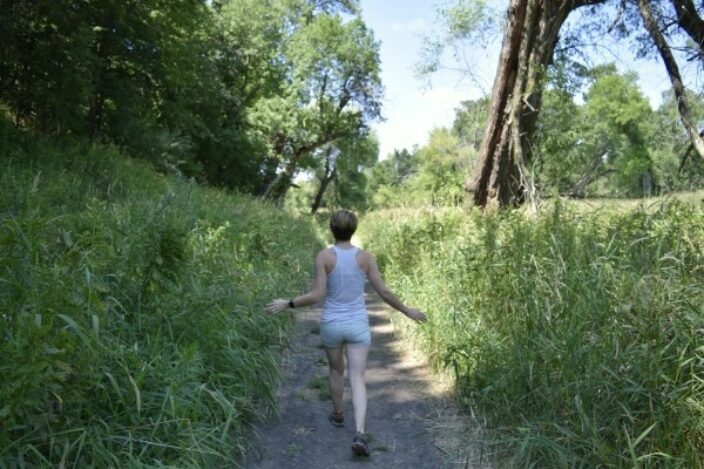 Good Earth is also a great place to visit for anyone who loves history or anthropology. The site is one of the country's oldest sites of long-term human habitation, serving as a trading center for native people from 1300 - 1700 AD. Explore the visitor center to learn more about the sites history and the people that lived and visited here.

And of course, if you like to paddle, you can canoe or kayak in the Big Sioux. Obviously you don't want to do this at the falls, but there are plenty of places to put in, on the river near Sioux Falls for a fun day of paddling on the water.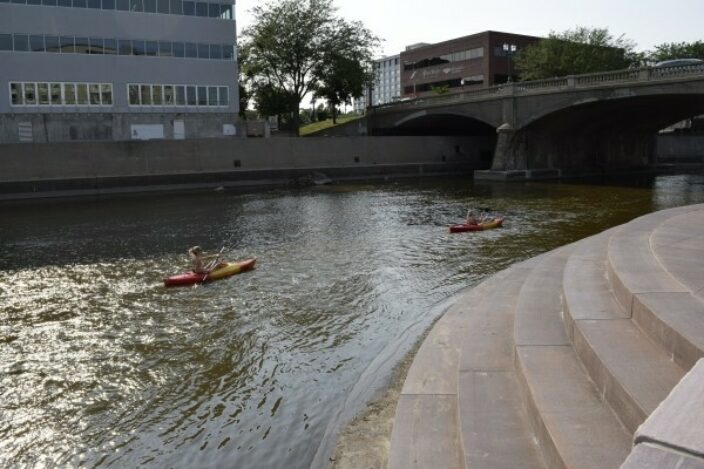 History and Culture
What I love about Sioux Falls is that it doesn't just cater to one of my interests, but several. In addition to being an avid outdoorsman, I'm also a trained historian and art lover. Good Earth State Park scratches both those itches, but there's still more to explore in Sioux Falls.

Every time we visit Sioux Falls, we include a visit to the Center for Western Studies on the campus of Augustana University. The center hosts three or four art exhibitions every year, so we get to see something new every time that we visit. On this trip, we were pleased to see "Weathered: The Northern Plains Landscape as Shaped by the Elements." This centers on the impact that weather has on the Northern Plains through the creations of 22 regional artists.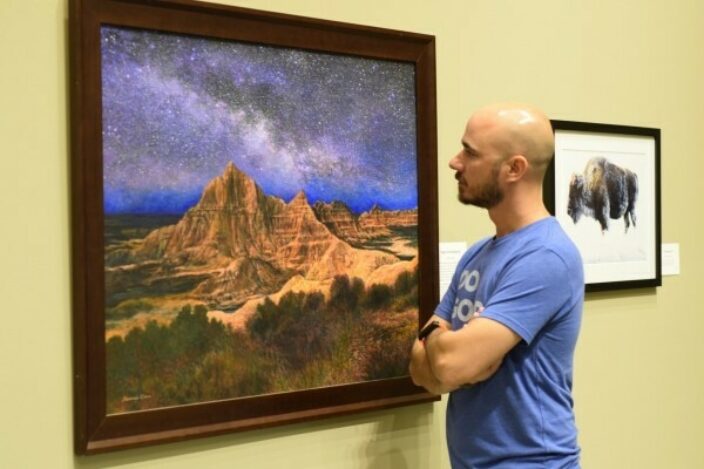 The permanent exhibit, "Voices of the Northern Plains,"takes the visitor through the history of the region, from the same Oneota village we learned about at the Good Earth visitor center, through the period of Plains Indian dominance, the Plains Indian Wars, and to the arrival of early homesteaders and missionaries.
The visitor continues to move forward through the region's cultural history as authors like Frederick Manfred and Willa Cather re-imagined the frontier in their novels, the re-interpretation of indigenous culture through traditional art forms, and the introduction of European art forms like English woodcarving and Norwegian quilting.

Other great museums that we have visited in the area include the Old Courthouse Museum, the county's first courthouse completed in 1893, the Pettigrew Home and Museum, former home of Senator Richard Franklin Pettigrew, and the Washington Pavilion, which houses a visual arts center, concert hall, large-format theater, and science museum.
Downtown Sioux Falls
But if you're just looking to have a good time, you're going to find it in downtown Sioux Falls. From local beer to funky shops, you've come to the right place. Stop at CH Patisserie for a decadent treat, or Minerva's for a nice steak. There are tons of options available for whatever you're craving.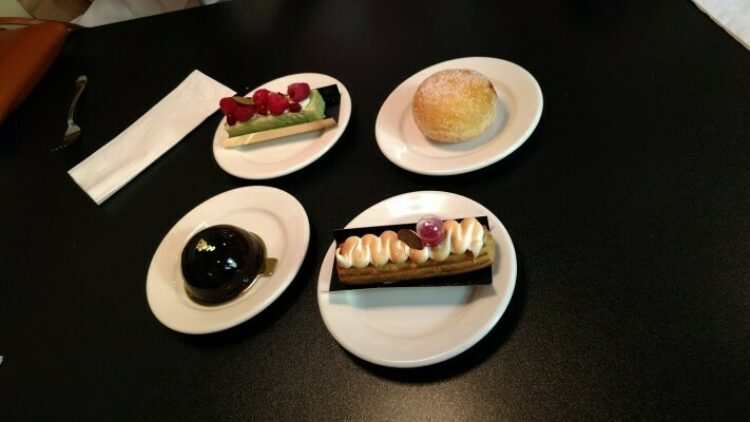 While you're exploring downtown, you can't miss the city's sculptures. In fact, you can pick up a map of the SculptureWalk, and vote for the people's choice awards this summer! One of my favorites is this sculpture by Steve Bormes, titled "School Spirit."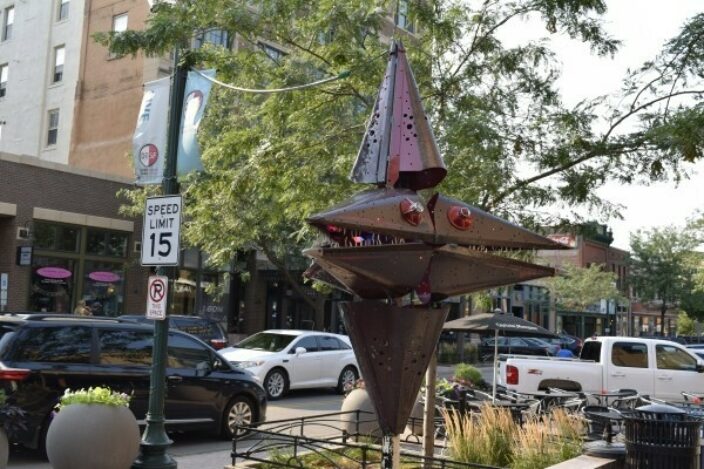 With all that walking, you're bound to work up a thirst. Luckily, downtown Sioux Falls can slate that thirst too. Stop in at MacKenzie River for the Smoked Old Fashioned, one of my favorite drinks this side of the Mississippi.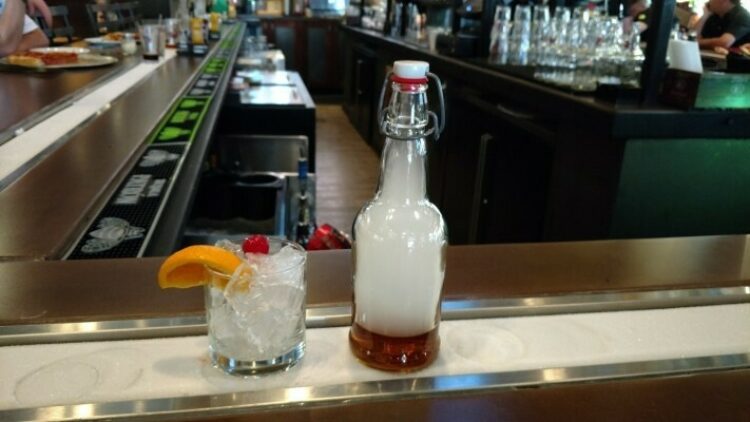 Or head over to the recently opened Carpenter Bar for a craft cocktail you're sure to enjoy. I had their take on the Horse's Neck, a cooler that had been a staple in the early 20th century bar scene in Atlantic City.

I love the atmosphere here! It's a great place to catch up with old friends, have a drink or two, or even play a hand or two of cards with the decks provided on the table.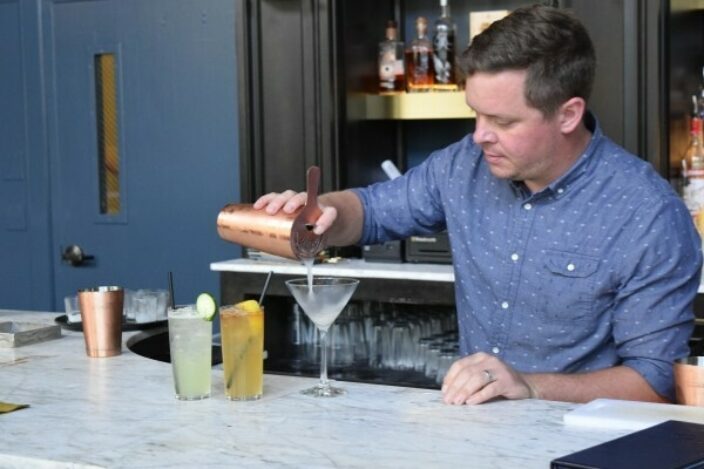 The Carpenter Bar provides a fantastic blend of old fashion taste and modern style. In this way, it's much like the city which it inhabits; an amalgam of old and new, vintage and modern, bucolic and metropolitan.

A lot of cities and towns claim to have something for everyone, but Sioux Falls is one of the few places I've visited that lives up to that claim. With small town charm and big city culture, you can explore a fun and funky downtown one minute, and be hiking through the woods the next. The variety is endless and the city is growing with new opportunities and offerings. A lot of places strive to be all things; Sioux Falls is one of the few that does it well.